Beyond the Visitor Report: Ways to Measure SEO Success
Written by Nick Stamoulis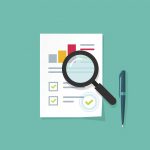 In order to determine how your website and SEO campaign is performing, it's necessary to add analytics code to the site. There are plenty of website analytics tools to choose from, both free and paid. What we recommend is Google Analytics. It's a free tool that really provides a wealth of information that comes straight from Google, which is helpful since Google practically runs the Internet. Google Analytics allows you to pull a number of reports that can be used to measure success. For SEO, the organic visitor report is critical as it shows you the number of visitors coming from the search engines for a specific time period. However, an increase in organic visitors can come slowly which is frustrating for website owners that are investing in SEO. Luckily there are a number of other reports that you can pull that will also convey SEO "wins".
Some of these reports include:
Referral source report
Part of an SEO campaign involves building inbound links to your website in order to improve the authority of your site in the eyes of the search engines. Inbound links from high quality and relevant websites tells the search spiders that your site must be high quality by association. It also helps build your credibility in the industry. Building these links to build SEO trust is important, but you shouldn't forget what the original purpose of links is. Links are there for web users to navigate the web. If you're building links on quality sites, those links should also be delivering traffic to your website. The referral source report will outline all of the sites that led visitors to your site. If you are actively building links and submitting content to other sites, you should see a steady increase here.
Keyword report
Keyword reports aren't what they once were, unfortunately. In an effort to enhance privacy efforts, Google now hides keyword information from users that are logged into a Google account at the time of the search, which means that a large percentage of keywords are now "(not provided)". However, that doesn't mean that the keyword report is useless. The number of "(not provided)" is fewer in some industries than in others. The data is still worth looking at. Comparing the keywords from before the start of the SEO campaign and after the site was optimized and link building began, there should be additional long tail variations being used. To compensate for the "(not provided)" you can also look at the keyword report in Google Webmaster Tools, which includes a list of keywords that delivered traffic and received impressions.
Blog traffic report
SEO is all about "content, content, and more content" today. The more quality content that you are publishing, the greater the chances are that you will be found organically in the search engines and earn natural inbound links that point back to your site. A blog on your business website is essential to improve your SEO efforts. If you are blogging as part of an SEO campaign, any traffic that the blog generates can be attributed back to SEO efforts.
Categorized in: SEO
LIKE AND SHARE THIS ARTICLE:
READ OTHER DIGITAL MARKETING RELATED ARTICLES FROM THE BRICK MARKETING BLOG: