PageRank Is Not Important for Digital Marketing Success
Written by Nick Stamoulis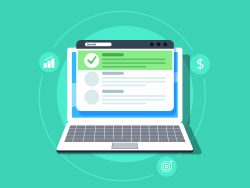 Once the prime measurement of success of success, PageRank was highly regarded and always talked about. Clients would tell us that they wanted to rank in certain spots for certain keywords, and at the time, this was a decent measurement of how well a digital marketing program was working. After Google made several algorithm changes, the PageRank fell out of favor, simply because it no longer offered an accurate measurement of how well the program is working.
The problem is, clients are still telling us that they want to rank in the search engines for certain keywords. This tells us that their mindset is stuck in the past. These days, how you are doing in the search engines is measured over time based on an increase in traffic, with your primary concern being that you are attracting the right audience to your website. Here's more information about this:
What Exactly is PageRank?
The PageRank algorithm assigns a ranking to web pages based on the principle that having more links increases a website's value. Algorithms are used as the foundation for search engine rankings by companies ,such as Google. There was a time when increases in your PageRank score were an excellent indicator that your SEO strategy was working, particularly your link-building strategy. However, many more factors now influence a website's ranking, so PageRank is no longer critical.
How Does Google Rank Your Pages?
As Google and other search engines continue to develop, more variables in their algorithms are naturally measured to enhance their users' experiences in the constantly changing Internet environment. For instance, the explosion of social networking and online sharing is one factor Google's algorithms hadn't considered yet. However, it is important to understand that Google doesn't publicize what their ranking factors actually are, likely because they don't want you to obsess over data.
You Need to Think About the User Experience
So what do Google, and possibly other search engines, want you to think about? Your main concern should be delivering a great user experience on your website that pleases your target audience. If your target audience is finding everything they need on your page, then you will be rewarded with better visibility in the search engines. This includes activities such as creating content that your audience will enjoy reading, social media posts designed to attract the right people, and a regular digital marketing schedule that will help attract more members of your audience.
So, when a client asks us how they can rank for certain keywords, we know that we need to take a step back and explain to them that this is a data point that no longer matters. What you are really interested in is finding ways to target the right people and bring them to your website. If your website is posted to please your audience, the search engines will eventually reward you with greater visibility.
In other words, they want you to put your customers first and not worry about specific points of data such as PageRank. If you obsess over data, chances are pretty good that you aren't thinking about your customers.
Categorized in: Digital Marketing
LIKE AND SHARE THIS ARTICLE:
READ OTHER DIGITAL MARKETING RELATED ARTICLES FROM THE BRICK MARKETING BLOG: