Digital Marketing Can Help Businesses Attract Quality Niche Links
Written by Nick Stamoulis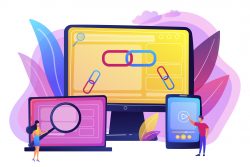 It's no secret that developing a strong link portfolio can help your digital marketing efforts, especially since links are widely known as being a ranking factor for the search engines. However, it is important to understand that it isn't just any old link that will do. The links have to be of a high quality, and niche links that are hyper focused and pertain to your industry are amongst the most valuable of all. Most digital marketing practices, such as creating quality content and posting on social media, could absolutely attract these coveted links. Here's more information:
Google Cautions Against Link Schemes
Google's Webmaster Guidelines cautions against what is known as "link schemes", which they define as a series of practices designed to artificially boost the link portfolio. Here are some of the examples that Google uses as link schemes to avoid:
Excessive link exchanges ("Link to me and I'll link to you") or partner pages exclusively for the sake of cross-linking
Large-scale article marketing or guest posting campaigns with keyword-rich anchor text links
Using automated programs or services to create links to your site
The main thing to remember is that any action that is looked at as forced or manipulative in order to obtain links is a no go. The key, then, is to obtain niche links in a natural way.
Create Content People Will Want to Read
Building links is something that needs to be earned, and our link portfolio needs to be as natural as possible. The core of this way of thinking actually starts with the content that you create for the business's website. Before you start writing it, however, you should ask yourself one simple question: Is this the type of content that the people in your market will want to read? If the answer is yes, you have the type of content that has the potential of being visited and shared amongst your readers. If people like what they read, they might share it with others.
Stay Consistent With Your Digital Marketing
After you write a great piece of content, the next step is to let people know about what you've written through digital marketing tactics. By sharing your content with digital marketing tactics such as posting in social media, in your newsletter, and also through paid advertising you give more people a chance to take a look at it. If the content pleases them, they may turn around and share it with their friends and family, who might then share it on their blog or website. It is this consistency that will eventually win people over and result in creating niche links.
The natural cycle of creating and sharing content can help create backlinks over time. Unfortunately, there is no way to control how people perceive you're content. The only things you can control are making sure your content is well-written and that it adds value to your customers. If those two items are in place, it stands a chance of being helpful to your readership.
Links schemes are not a viable way to get backlinks these days. The best way to do this is to treat it as an earned medium. By engaging in digital marketing practices, you will attract a quality portfolio of niche links over time.
Categorized in: Digital Marketing
LIKE AND SHARE THIS ARTICLE:
READ OTHER DIGITAL MARKETING RELATED ARTICLES FROM THE BRICK MARKETING BLOG: