Develop a Mobile First Approach to Your New Website
Written by Nick Stamoulis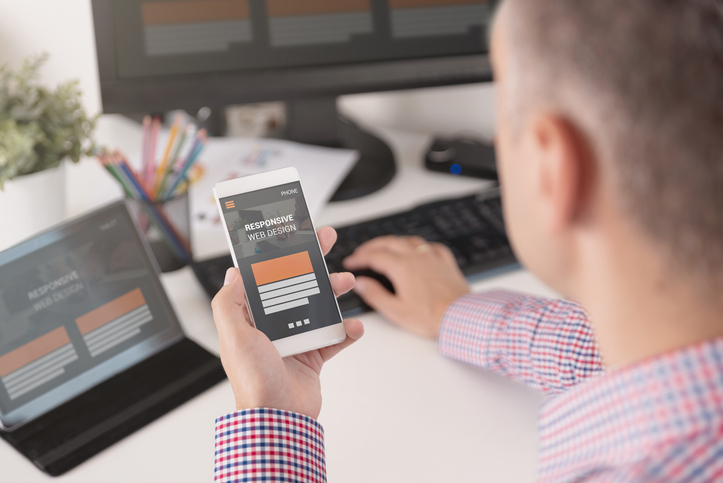 Mobile first is a technique that shifts the focus to prioritizing the design and development of the mobile experience before the desktop. Mobile first means that designers and developers should consider what their content will look like on a mobile device, even before deciding how it will appear on the desktop.
The benefits of mobile first are manifold. When redesigning your website, it's essential to consider these considerations, as it could affect everything from navigation to sizing fonts and images. You should know how to develop a website with a strong focus on mobile-first design.
Importance of Mobile First
There are many benefits to mobile first design that extend beyond simply designing for a smaller screen. Mobile first means your website will be easier to navigate with a mobile device, and you'll be able to fit more of the content onto one screen. This makes it easier for users who might not have a lot of time on their hands or small screens on their devices.
Mobile first also means you can create a custom experience for your visitors based on the type of device to access your site. For example, desktop users might see larger fonts, while mobile users see smaller fonts to fit more words per line. The bottom line is this: when planning out your website, it's essential to consider how the design and layout will look across different screens and devices.
Planning your mobile first approach
One of the most important things to do when planning your mobile first approach is to look at your site's analytics. All of this data will be available through Google Analytics if you have a responsive design. However, if not, it's still possible to get good information from site visitors' IP addresses or by using third-party analytics tools, like Google Analytics for Mobile Apps.
The next step is figuring out what content fits best on mobile devices. Think about how people might use your site on the go before deciding where to position buttons, links, and other interactive elements. Finally, consider that different mobile devices have different screen sizes and resolutions. Make sure that images are optimized for all screen sizes, and mobile-friendly fonts are used so that content is readable on any device.
Designing for a Specific Device Context
the Designing for a specific device context is one of the main advantages of mobile first. For example, if you're planning a carousel, it might work better to use horizontal swipe gestures on mobile and vertical motions on desktop.
Mobile first also considers different contexts in which people access content on the web, such as their location or what they need to accomplish at that moment. This perspective encourages designers and developers to prioritize speed, simplicity, and security while allowing users to efficiently complete tasks with a single tap or click.
What's in a name? Naming your mobile site
Naming your mobile site is an essential step in developing a website from the ground up, focusing on the mobile first design. Your mobile site may be a completely different name than your desktop-optimized site, even if it's housed under the same domain. The domain for your mobile site probably won't look anything like what you're used to. It will typically include "m." or something else that indicates it is optimized for mobile.
A mobile first approach is essential for any business. Whether updating your current site or building a new one from scratch, implementing a mobile first approach will ensure that you're delivering the best possible experience to your customers.
Categorized in: Digital Marketing
LIKE AND SHARE THIS ARTICLE:
READ OTHER DIGITAL MARKETING RELATED ARTICLES FROM THE BRICK MARKETING BLOG: