Knowing Your Goal for Social Media
Written by Nick Stamoulis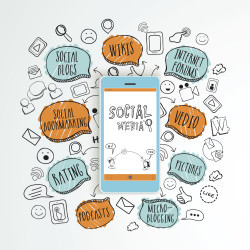 The availability of social media platforms has grown almost exponentially over the last decade, and smart businesses for years have found ways to make social media helpful for their companies. If you haven't taken advantage of social media for your business, this is something you should consider in the near future.
The only thing to keep in mind is, what works for one business may not work for yours. There are many ways to use social media to increase profits, sales, and even recognition. It all depends on what your goals are. In other words, you need to really understand what you are trying to achieve before you get started with social media.
Knowing What Goal to Focus On
It can be difficult for businesses to think about the goals they should be setting for their social media program. They may believe they are not savvy enough to know what they should be doing, but common sense still functions in this arena. Setting goals is about making a plan to bring in more business, get more recognition, and it is about converting followers into purchasers. After those are set, it is just a matter of choosing the numbers. Business leadership should have a dedicated team whose sole focus it is to work on digital marketing tasks, such as social media. The team should work with leadership to find the right goals to focus on.
Don't Go Silent on Social Media
Traditional advertising methods used to be a bit easier than today's online platforms. Businesses find an advertising medium that worked for them, and they only had to decide how often they would purchase an ad. Today's consumers expect more from an online campaign, and that means posting on a regular basis. A minimum of once per business day is expected for those businesses craving the success of reaching their goals. They can do it through posting, or they could bear the expense of purchasing advertising space on various platforms. Their goal with regular posting is to keep showing up in the feeds of users on platforms, and supplying a stream of regular posts will help increase their visibility.
Learn How to Build a Community
It can appear to be an uphill battle when first using social media platforms to expand a company's brand. Finding and acquiring followers is one of the best ways of creating a community that can eventually be grown. There are several ways to do just that, and each business will need to decide what works best for them. If there is a person on staff able to write short but witty posts, that could be a way to get followers. Other methods are to offer discounts that can be shared with other users, or making polite posts about whatever is trending. If gluten is suddenly in the news, a lawnmower business might want to have a post about the fact their product is and has always been free of gluten. It is true, and that type of post is one that would tend to be shared.
Social media can be used to drive traffic to a website, sell a product or service, brand your business, or find leads. You need to determine your end goal before you commit to a process. It will make things so much easier!
Categorized in: Social Media
LIKE AND SHARE THIS ARTICLE:
READ OTHER DIGITAL MARKETING RELATED ARTICLES FROM THE BRICK MARKETING BLOG: