Do Keywords Still Matter for Content?
Written by Nick Stamoulis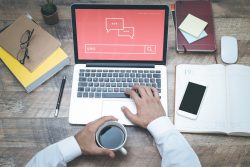 When it comes to writing content, you might be wondering if keywords still matter for SEO. There was a time when keyword stuffing was the general rule of thumb when it came to ranking higher in the search engines. Keywords and phrases were used throughout pages whether or not they flowed with the content. But now, the focus is less on seeing how many times short or long-tail keywords can be thrown in, but in how well the keywords work with the content. If the keywords match up with the content, they can be used effortlessly.
However, this is definitely not the case anymore. Although keywords are still important for SEO, things are a bit different now since the search engine algorithms are more sophisticated. Here's more information:
Keyword Stuffing is Against Google's Guidelines
It has been a long time since keyword stuffing worked to help a page get ranked. Nowadays, it is completely against Google's Webmaster Guidelines. Content that is too stacked with keywords could even be penalized. This, for the most part, is common knowledge. However, it is still important to keep this in mind because sometimes, people write with a lot of keywords without realizing they're even doing it. Google's main concern is that the content of the article itself matches the title of the article, and that the reader's expectations for what the content is about are being met.
Write the Content As Naturally As Possible
We all know what an article that has been stuffed with keywords looks like. These types of articles are stiff, robotic, and uninteresting. Seeing so many keywords in an article also gives our brains a sense of fatigue as we are reading the words. This is because, for the most part, articles written with a lot of keywords don't sound natural.
A writer's number one goal is to make sure the content reads as naturally as possible. Content that reads this way will actually be rewarded over articles that have a lot of keywords in them. Besides, when content is written naturally, keywords are automatically worked into the copy in a natural way without us even realizing it.
Understanding the Role Keywords Play Today
Believe it or not, keywords do still play a role in today's content environment, it's just that the role has changed. Search engine algorithms are sophisticated enough to understand that an article's intent can help bolster certain keywords. For example, an article that is titled, "How to Write Great Content for SEO" gives readers the expectation that the article itself will include tips and advice for writing excellent content for the search engines.
As long as the topic is being covered, readers will be satisfied. When readers are satisfied, this causes the content to do well in the search engines for relevant keywords related to the topics. There was no need to research keywords for this article because the search engines know exactly what the article is about.
It's true that keywords do still matter when writing content. However, this isn't in the way that people assume. People need to have their expectations met when reading the articles and other content and this could automatically help it rank well in the search engines.
Categorized in: Content Marketing
LIKE AND SHARE THIS ARTICLE:
READ OTHER DIGITAL MARKETING RELATED ARTICLES FROM THE BRICK MARKETING BLOG: