How to Improve a Blog Post for SEO
Written by Nick Stamoulis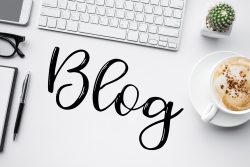 There are many reasons to create and maintain an active blog on your business website. It serves as an additional resource and source of information for website visitors. It helps to display the authority and knowledge that you have on a specific topic. It also is beneficial for SEO reasons. The search engines prefer websites that stay "fresh" and continually update and add new content. Each blog post is a new page that can rank for targeted keywords.
Here are 4 ways to improve a blog post for SEO:
Create an SEO focused title
There are two different ways to approach blog post titles. You can come up with something creative that might get clicks because it's so odd, different, or quirky like "How Link Building is Like Puppy Training" or you can come up with a title that actually mimics how someone might be searching for the information that the blog post provides. As SEO experts, we lean towards the latter. Creative writing professionals may lean towards the former. Of course, there is nothing wrong with doing both. To create a title for SEO, do some keyword research and see how people are searching or start typing something into a Google search tab to see what Google recommends. If people are searching for "ways to build inbound links", write a blog post titled "5 Ways to Build Inbound Links".
Add an image tag
To make a blog post "pop", especially for when it's shared in social media, it's always best to include an image that corresponds with the content in the post. Of course, the search spiders can't "see" this image. That's why you need to include a keyword focused image tag so that it's one additional item to tell the search engines what the post is about so that it can be ranked accordingly.
Include links
Links are a vital component of SEO since the search spiders crawl the web link to link. Within the body of a blog post, add an anchor text link to another related page of the site or to a different blog post that goes more in depth on the topic. This isn't something that needs to be done in every post, but it's good to include them here and there. In addition to improving the internal linking structure of the site, it can encourage someone that is reading the blog to stay on the site for a longer period of time. It's possible that the blog post was the entry point to the site and ideally you'd like them to click around to learn a little bit more about who you are and what you have to offer.
Add an author bio
An author bio might not be needed for blog posts on your own site, but they should definitely be utilized for guest blog posts. Tell readers a little bit about who you are and what you do. Include links back to your site that will improve your link portfolio and generate traffic to the site.
Categorized in: SEO
LIKE AND SHARE THIS ARTICLE:
READ OTHER DIGITAL MARKETING RELATED ARTICLES FROM THE BRICK MARKETING BLOG: