Importance of Social Media for Business Growth
Written by Nick Stamoulis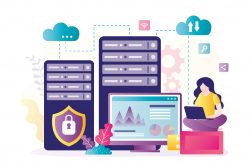 It's true that there is a wealth of digital marketing strategies you can use in order to help your business grow. Social media is one of those strategies, and for businesses, it presents the opportunity to help facilitate business growth by reaching new, potential customers, as well as t help you keep in touch with existing customers. In fact, it can open up a whole world of opportunities, but only if you know how to do it right. Here's a look at the importance of social media to help you grow your business:
Social Media Has a Large Audience
Social media bas a large global audience, and this is good news for your business. No matter what your audience is, chances are pretty good that they can be found on at least one of the social media platforms. Because of this,  social media is being used by businesses all over the world to help them better connect with their audience.  For these reasons, social media marketing is essential to growing your business. You just need to figure out exactly how to best use social networks in order to learn how to best utilize them for your business.
Allows You to Easily Reach Your Audience
Once upon a time, the only way to communicate with your customers was through the phone or good old-fashioned face-to-face interactions, which involved them walking into a brick-and-mortar location. Nowadays, you can do that and so much more through social media platforms. It is quick and easy to set up an account on Facebook, for example, then use it to post about your products or services at any time.
Your customer base will be able to see the updates and read or watch the content whenever it is convenient. No need to worry about an inconvenient phone call or miss your potential customer because they couldn't answer the phone at that moment. With social media, you have a complete presence and visibility all the time, with any number of people from anywhere in the world, with just one click of a button.
Engages Prospects and Existing Customers
Social media marketing engages prospects and customers because it provides relevant content that people want to see, read about and discuss with their friends on Facebook, Twitter, LinkedIn, Pinterest, and others. People love to talk about their experiences with your business and share how you helped them solve a problem, deliver a product or service, or make their life easier. It is a good way to get your name out there than by using social media to promote your product or service, and to connect with your audience.
Social media marketing is a fantastic way to promote your business, whether you're a new company or one with a long history. It can help you better connect with your audience, and in doing so, it can help you achieve business growth. Of course, you shouldn't only use social media. It should be part of an overall digital marketing strategy.
Categorized in: Social Media
LIKE AND SHARE THIS ARTICLE:
READ OTHER DIGITAL MARKETING RELATED ARTICLES FROM THE BRICK MARKETING BLOG: