How Do You Optimize Your Content Using SEO?
Written by Nick Stamoulis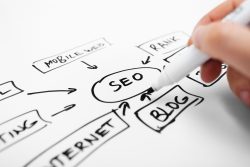 When it comes to Search Engine Optimization or SEO, content should be treated as the cornerstone. After all, it is your content that will attract your audience to your brand, either by visiting your website on their own, or when an internet search connects them to your website. In order to get the most out of this, you should be implementing an SEO program. A key part of the program is to make sure that your content is optimized. So, how you make sure the content is optimized well? Here are some tips:
Thoughtfully Research Keywords
There was a time over a decade ago when individuals would research long lists of keywords and try to use all of them in their content. A lot of this had to do with the way the search algorithms were written. These days, the algorithms are a lot more efficient, and there is no need to be so heavy handed with keywords. Keyword research is about finding the best possible keywords that will connect your audience with your page. You only need one or two of these keywords on each page, and even that might be stretching it. The list should be conservative, and you should manually check it to make sure that you have only included the best choices.
Write Content Naturally First
When it comes to the search engines, their priority is to make sure that their customers (people who perform a search or use their search engine in any way) is happy. Their users are happy if they are connected with the right content. For you, this means that you content needs to be written naturally. If the content is stuffed with keywords, it won't read naturally and will turn readers off. Keyword stuffing is not only bad for usability, but it could also lead to a penalty, according to the Google Webmaster Guidelines. 
The structure of your content is also essential in this phase.  Arrange your content so that it is easy to read and understand. This includes using short paragraphs, headings, and lists. People are more likely to stick around and read your content if it is well organized and easy to read. Make sure your headlines are descriptive and well-written. You also don't want to forget the visuals. Images, infographics, and videos are great ways to break up text and make your content more engaging. People are more likely to share visual content. Google also favors websites that include images and videos in their search results.
Sprinkle Keywords in Naturally
After the content is written, now it is time to see what is going on with keyword use. First, check to see if you have actually included natural keywords in your content. Chances are pretty good that you did. If the keywords are already in content, you don't want to add them again. More is not better. The algorithms can tell what your content is about if it is written well and will return your content in the search engines if it's relevant. In fact, when content is well written, you will find that you will start to be returned for keywords you may not have even targeted.
If the content doesn't have the 1-2 carefully selected keywords you decided on for that page, feel free to find a place to add it, as long as it is natural. It is okay to add a sentence or two so that you can add these in, but you don't want to manipulate your content too much, especially if when you do it no longer reads naturally.
By following these simple tips, you can create SEO-friendly and user-friendly content. Creating great content is the first step to driving traffic to your website. Once you have traffic, you can start working on other aspects of SEO, such as link building and social media.
Categorized in: SEO
LIKE AND SHARE THIS ARTICLE:
READ OTHER DIGITAL MARKETING RELATED ARTICLES FROM THE BRICK MARKETING BLOG: