Why You Should Refresh Your Content Marketing Strategy
Written by Nick Stamoulis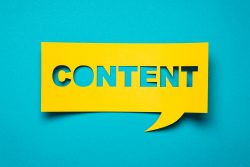 In many ways, your content strategy forms the backbone of your digital marketing. Content is what will help your website be returned in search results, helps provide value to your audiences, gives you content to share on social media, and much more. However, you won't reap all the benefits of having content if your strategy is on the older side, simply because what used to work in the past may not even work now. This is why you should periodically refresh your content marketing strategy. Here are some reasons why a content refresh might be worthwhile:
Content Improves Your SEO
There's no doubt that content can help improve your SEO, since it is content that the search engines crawl and return in search results. However, if your content strategy is stale, then the search engines may not return your website favorably. In other words, if you refresh your strategy, you will stand a greater chance of getting returned in the search engines. Pus, the more relevant content that you have for your brand and for your audience, the better off you'll be when it comes to SEO. The key is that your content needs to be relevant and useful.
Stay Up on Current Trends
While it may not be a good idea to embrace all the trends, you need to at least stay current with what works for content marketing in your industry, otherwise you run the risk of being left behind. For example, there could be a certain writing style that becomes popular in your industry, or your audience could expect that you cover certain topics. If you don't deliver on these expectations, then your audience will be disappointed and your content won't do as well. If you find that your content is not embracing the current trends, you should refresh your strategy and work these trends into it.
Focus on Your Core Audience
One of the main goals for content is to use it to find a way to connect with your core audience and customers. If you find that you are covering topics that are not quite relevant for your audience, then you stand the risk of alienating them. In other words, you need to focus on your core audience when putting your content strategy together. If you have somehow lot sight of your core  audience, you will need to make them the primary focus. At this stage, the only way to really do that is to make sure that you give your content marketing strategy a refresh.
If you have somehow lost track with your content marketing, this is a clear sign that your strategy could use a refresh. Before you proceed with changing things up, however, you really should perform a content audit. This is the only way to be sure that you need to change things up, and it also helps you take a more strategic approach. The reason for this is you don't want to make changes to your strategy unless it's really necessary.
Categorized in: Content Marketing
LIKE AND SHARE THIS ARTICLE:
READ OTHER DIGITAL MARKETING RELATED ARTICLES FROM THE BRICK MARKETING BLOG: