When Should You Hire a Digital Marketing Agency?
Written by Nick Stamoulis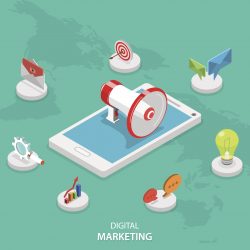 It's true that all businesses need a solid foundation when it comes to their digital marketing. However, many don't realize that there is a right time to start a relationship with a digital marketing, and a time that isn't optimal. Although we can technically help everyone achieve their goals, there is a sweet spot to keep in mind. Digital marketing agencies can best do their jobs when the business is more established, but there are exceptions. Here's more information about this:
Focus on Building Your Business
In the beginning stages your business, your efforts are better spent in building your business. Develop a customer base. make sure you are offering the right products and services. Get your website up. Start marketing. When you hire a digital marketing agency, they don't help you build your business. They simply help you connect your business with the right audience.
Do you know what the "right business" really is for you yet? If you don't, then you won't get a lot of your relationship with them. You need to make sure that your business is pretty well established before you hone your digital marketing plan. If you begin working with the agency before you business has a solid footing, you won't get as much from the relationship as you could, and you also won't get the results that you expect.
Don't Hire an Agency Too Soon
In other words, you don't want to hire a digital marketing agency too soon because you won't get as much out of the relationship as you would like. If you want to optimize results, you should want until well after your business launches before you get help with your marketing. The reason for this is that digital marketing works best when the business has a clear identity. There has to be a solid sense of what the business does, the branding should be nailed down, and the ideal target market will also be well established. If these items aren't well understood, it will be hard for the agency to know how to best position the business in its digital marketing efforts.
Startups Are the Exception
The exception to this mindset is that startups could benefit from working with a digital marketing agency right when they launch the business. In this case, startups often end up with a lot of money from investors to spend to help the company get off the ground quickly. If this describes your business, it could make sense to hire an agency in the beginning stages. However, as a general rule, it really isn't optimum to work with a digital marketing agency when the business is new. Startups with a lot of investment money to use, though, are the exceptions to the rule.
Are you thinking of hiring a digital marketing agency? If so, you should consider that timing is everything. When you outsource your digital marketing before your business is clearly established, this could harm your overall efforts.
Categorized in: Digital Marketing
LIKE AND SHARE THIS ARTICLE:
READ OTHER DIGITAL MARKETING RELATED ARTICLES FROM THE BRICK MARKETING BLOG: