We Can Help Everyone – But Are We a Good Fit?
Written by Nick Stamoulis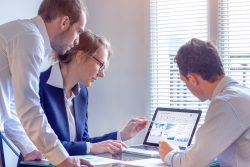 Brick Marketing has been in business since 2005 and the Internet has changed a lot during that time period. We have a lot of experience honing and refining our techniques, while also staying current with common industry best practices.
We've had a lot of different types of clients over the years, as well, and the one thing we have learned is that our strategies can help all clients improve their businesses. Our results speak for themselves! Yet, we aren't always a good fit.
Here are some things to consider when deciding whether you want to work for us:
We have a proven track record of success.
As mentioned above, our results speak for themselves. We have a proven track record of success because we have a method that works every time! Every now and then, clients try to get us to make changes to our process. While change can be a good thing, there are certain fundamentals that we don't deviate from, such as how we perform keyword research or maintain compliance with Google's Webmaster guidelines. We know when a change is for the better or when it won't work or may cause more harm than good. We love clients who trust us because we have their best interests in mind!
We do know that strategies can change depending on the client.
It's true that we have a method that we use for every client we take on, especially those who hire us for our full service SEO expertise. We have a certain framework that we follow because we know it works, but we also know that each client has a unique business that has special consideration. We don't take a cookie cutter approach! For example, we always develop a unique content marketing strategy that is in line with your business and make our recommendations based on what will work best for your market. The same is true for all other aspects of our strategy, such as performing keyword research (we use a manual and analytical approach to deliver unique results) and also when designing a social media strategy. These are just a few examples.
We want to become your digital marketing partner.
Our main desire is to not build a client/ expert relationship. We are certainly good at what we do, but we prefer to think of it as building a partnership. Partners value each other. They consider each other's needs and offer advice based on the best approach. If you hire us to perform digital marketing tasks, we do so with your best interests in mind. We not only want to develop and execute the best digital marketing strategy for your business, but we also want you to come to us with any marketing question or concern that you might have.
No matter what you need help with, whether it is a website redesign, boosting your leads, or you need some advice that will help boost conversions, we are there for you. Understand that we have years of experience to draw on, and if we make a recommendation, it is always backed by our experience, by data, and what we know to be the best approach. We are here for you, and we can help you with whatever you need.
As a digital marketing firm, we know that we can help improve every business using our strategies. However, we also understand that not every client will be a good fit. Our strategies only work if the client is willing to heed our expertise!
Categorized in: Digital Marketing
LIKE AND SHARE THIS ARTICLE:
READ OTHER DIGITAL MARKETING RELATED ARTICLES FROM THE BRICK MARKETING BLOG: