Get to Know Your Audience to Make Decisions
Written by Nick Stamoulis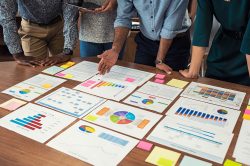 In order to truly serve your customers, you need to get to know them. This is an important lesson that businesses need to learn because this will enable them to achieve true growth. There are a variety of methods that can be used to get to know the audience, your customers, and your potential customers, including analyzing data and also making personalized connections. Here's a look at getting to know your audience so that you can make decisions that will be in their best interests:
Analytics Isn't Everything
It's true that analytics can be used to help make decisions, but it's important not to get too stuck on using it. Assessing data such as traffic and conversions can certainly help us make key marketing decisions, such as whether or not to continue running an ad campaign, when to post on social media, or even what type of content we should be posting on our websites. Data can be helpful, but it isn't everything! The ultimate goal is to make decisions that will benefit the audience and not worry so much about the numbers.
Gain Audience Insights
One of the ways analytics could help, though, is that we could use it to gain audience insights. This is not only true of the search engines, but for social media, as well. It helps to know the behaviors of your audience, such as their interests, which pages they visit online, and more. By assessing these behaviors, you can potentially uncover new opportunities that will benefit your business. In order to truly get to know our audience, it really does help to see what their interests and online behaviors are. However, simply looking observing the data won't be enough. It all depends on how you will use and interpret the information.
Get to Know Your Customers
It's true that we can use data to truly get to know our customers and find out more details about them. The goal is to get a sense of their demographics to target your marketing efforts. It can be helpful to find out information such as customers' typical ages, locations, interests, stage of life, and more depending on your market are all important to know. You need to get to know your customers before you can make decisions based on their best interests. The better you know your audience, the better you can serve them with the decisions you make.
Analytics is certainly a too that can help your business and overall marketing efforts. However, it is important not to fall into the trap of relying too much on it. Sure, you can use data and analytics to find out valuable information, gain insights about your market, and more. When it comes to determining what kind of content to create, how to compose your website, and even which social media posts you should be making, the data can only get you so far. You need to truly make sure that you keep the best interests of your audience at the front of your minds.
Categorized in: Digital Marketing
LIKE AND SHARE THIS ARTICLE:
READ OTHER DIGITAL MARKETING RELATED ARTICLES FROM THE BRICK MARKETING BLOG: