Keep Your Digital Marketing Skills Current
Written by Nick Stamoulis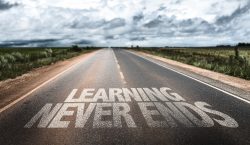 When was the last time your business really stopped to learn about digital marketing? If it was more than a few months ago, your skills could already be obsolete. What happens if digital marketing strategy is a few years old? Well, not only could it be created on information that is no longer relevant, but it could no longer be effective. Everything about your digital marketing should be current because if you are formulating a strategy from an obsolete process, you went get the results you want. It is important for digital marketers to stay current, but there should be a balance between use time-tested strategies that have been proven to work and adopting new methods.
Don't Ignore Classic Digital Marketing Methods
It's true that staying current in your digital marketing is important, but be careful not to take things too far. There are still tried and true classic digital marketing strategies that will always work. You should never ignore these in favor of chasing after something that is new and shiny. Strategies like content marketing, SEO, and social media will always be relevant. However, there might be some industry changes within the main strategies that you might need to consider adopting.
Making sure you have great content on your website will never change, but little things like content length and the overall writing style could change over the years. Many of these trends vary by industry, too. The main thing is to really pay attention to how your digital marketing is performing, and this could uncover that your skills might need an upgrade if it's not performing well.
Incorporate New Tactics to Stay Relevant
That being said, it is a good idea to incorporate new tactics in order to stay relevant. You should be aware of any industry trends and changes that might impact your digital marketing strategy. You should also pay attention to current skills and tactics for digital marketing implementation as a whole. You want to tastefully adopt new strategies as the opportunities present themselves, and only if you are absolutely sure that adopting these changes will make a positive impact on results.
Early adoption of a new method may not be wise, but you should at least keep it on your radar in case it is here to stay for the long term.  Your goal is to make sure you don't stay too stuck in the past with your digital marketing, or else you could lose business, but you don't want to adopt new trends too early or you could look desperate or that you are trying too hard to be current.
When it comes to digital marketing, it is true that there are time-tested strategies that will always work. However, things do change with digital marketing, and you need to be aware of what these changes are so you can decide if you want to make any changes to your strategy. It is important to stay current, but you should also be careful in how you roll out these changes.
Categorized in: Digital Marketing
LIKE AND SHARE THIS ARTICLE:
READ OTHER DIGITAL MARKETING RELATED ARTICLES FROM THE BRICK MARKETING BLOG: