Don't Rely on Sales Departments to Generate Leads
Written by Nick Stamoulis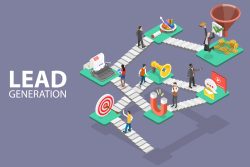 We all know that in order for a business to be successful, plenty of new business needs to be generated through the combined efforts of the marketing and sales teams. Too often, however, companies make the error of relying on sales professionals to keep the pipeline filled with prospects. Known as referral marketing, those in sales tend to use their existing list of contacts to generate new, potential business.
Sure, this is a strategy that could result in new business. However, generating leads is something that is best left to the marketing departments. The sales teams would be left to focus on what they do best – converting these leads into paying customers and clients.
Here's more information as to why businesses should focus on marketing generate leads through a variety of sources and let sales focus on turning these leads into business:
Know the Definition of Marketing
Ultimately, the marketing department is tasked with finding ways to let people know that a company's product or service exists. This, in turn, allows the company to grow. If marketing is doing its job, new people will find the business and then become potential clients or customers.
Webster's Dictionary defines marketing as:
the activities that are involved in making people aware of a company's products, making sure that the products are available to be bought, etc.
These days, a lot of marketing tasks are performed using the web, such as through social media, content marketing, and search engine optimization. No matter what the strategy is, however, the goal is always the same – to find ways to increase business.
Marketing Should Generate Leads
As mentioned above, companies sometimes make the mistake of thinking that the sales department is responsible for lead generation. Sure, this might be part of the job for the sales team members – to prospect and seek out referrals – but this shouldn't be their main function.
For businesses that rely on lead generation to keep the revenue pouring in, relying on sales to take care of this activity is the wrong move. Leads need to be pouring in from multiple sources, and it's up to the marketing department to make sure that the pipeline remains full with enough prospects to keep the business going.
Sales and marketing Should Work Together
In other words, sales and marketing really should work together. This is especially important if the growth of the business is fueled by lead generation. Marketing needs to hear from sales about what types of messaging they need to reach potential customers, and sales needs to hear from marketing about how successful that messaging is in attracting the right types of people. When the two departments collaborate, the needs of the business as a whole are better met.
When it comes to allowing a business to grow, it is important to remember that the underlying function of marketing is to let people know about what a business has to offer and to generate new leads and customers. Sales departments can assist with this, but this shouldn't be their main role.
Categorized in: Digital Marketing
LIKE AND SHARE THIS ARTICLE:
READ OTHER DIGITAL MARKETING RELATED ARTICLES FROM THE BRICK MARKETING BLOG: