Can Digital Marketing Help You Get Immediate Traffic?
Written by Nick Stamoulis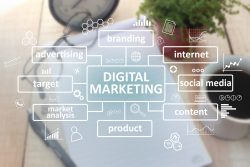 The goal of digital marketing is to ultimately spread the word about your business online. The end result is that more eyes will see what your business is all about if you're doing the process right. The majority of strategies take time to mature, and the result is that it can take several months or longer to see a noticeable improvement in traffic. The goal is to not only improve the reach of your business online, but you need to make sure that you are attracting the right audience.
As mentioned, most of the strategies in digital marketing take a while to develop. This includes search engine optimization, content marketing, and even social media. In fact, in order to do things right, you should expect that digital marketing is a long term strategy. So, can digital marketing actually help you get immediate traffic? The short answer is, it all depends.
Unexpected Spikes of Traffic
It's true that most digital marketing strategies, such as content marketing, social media, and SEO, rely on the long term. However, any of these could bring in unexpected spikes of traffic, depending on what happens, for example if something on social media goes viral, a phenomenon that is unpredictable. Just keep in mind that as fun as these traffic spikes are, they aren't necessarily the best thing to happen, because there is no way to know if these spikes are attracting the right audience. They largely happen by accident and definitely can't be relied on.
Consider Online Advertising
When developing a digital marketing strategy, it should be constructed with long term results in mind. This is the best way to utilize digital marketing, but what happens if you need traffic in the shorter term? The best way to do this is to use online advertising, such as direct advertising, social media advertising, or even pay per click, to fill in the gaps of traffic while you wait for the long term strategies to work. In fact, you can also include advertising as part of your long-term digital marketing plan, but you can also step things up in the beginning as you're waiting for the strategies to work. The right way to approach online advertising, of course, will depend on the nature of your business and your goals.
Best Approach to Digital Marketing
In order to maximize the benefits of your digital marketing plan, the best approach is to create the best strategy you can to maximize your long term results. Too often, businesses focus on the short term, and this usually prevents long term results from developing to their full potential. Your best approach is to make sure that you develop a strategy with the future in mind, but then be willing to spend money on advertising in the short term to start getting eyes on your business while the other strategies take root.
So, it's true that digital marketing can lead to short term traffic, but you're much better off developing a strategy for long term results, and then using online advertising to fill in the gaps.
Categorized in: Digital Marketing
LIKE AND SHARE THIS ARTICLE:
READ OTHER DIGITAL MARKETING RELATED ARTICLES FROM THE BRICK MARKETING BLOG: