Common Enterprise SEO Challenges to Overcome
Written by Nick Stamoulis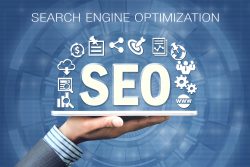 The SEO process is mostly similar for any website, regardless of size. It begins with conducting industry and target audience behavior research before selecting the proper keywords to target on every page. Keywords are then implemented naturally into on site content including meta information and on page body content. The final, ongoing step in the process is link building. While it may appear that SEO is better suited for large corporations that have big budgets, can handle SEO in house, and have more opportunities to build industry related links, there are many challenges that an enterprise SEO campaign needs to overcome.
Here are the top 3 internal threats to enterprise SEO campaign success:
Size of website
The bigger the corporation, the bigger the website (typically). If a company has many different departments, products, or service lines, there will need to be enough website content to provide information for each. There could be thousands of interior pages on the site. Since SEO best practice is to conduct keyword research for every page and optimize every page for search, it's going to take some time to complete this massive project. Even large corporations sometimes don't have the budget to hire an in house SEO team and hand these duties off to the marketing department that already is maxed out on time which means that the process takes even longer to complete.
Lengthy approval process
Every step of the SEO process relies on the step before it being completed accurately, which is why the approval process is so crucial throughout an SEO campaign. This is especially true when working with an outsourced SEO partner. An SEO firm specializes in SEO but certainly doesn't specialize in each of its clients businesses which is why it's very possible that the selected keywords might be a bit off or the on site recommendations might not flow the way that it should, specifically in a complicated niche. Targeting the wrong keywords or putting links on the wrong types of sites can mess up the whole SEO campaign. In a smaller company there might be one or two people working with the SEO team on approvals which helps to keep the process moving and streamlined. However, it's never that easy when it comes to an enterprise organization. Each step needs to be approved by the marketing team, the content team, the PR team, etc. which can take a long time. SEO already takes time to see results; you don't want to stall on the process any further.
SEO can be kept in a silo
In a large company there typically isn't just a "marketing department". There are separate departments for every facet of marketing: a PR team, a social media team, a content team, etc. SEO efforts integrate each of these different disciplines. If SEO is kept in a silo opportunities will be missed and the messaging could suffer.
Categorized in: SEO
LIKE AND SHARE THIS ARTICLE:
READ OTHER DIGITAL MARKETING RELATED ARTICLES FROM THE BRICK MARKETING BLOG: