Set Digital Marketing Goals for Business Success
Written by Nick Stamoulis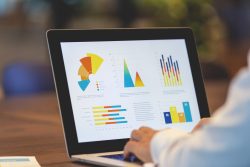 When it comes to digital marketing, a lot goes into creating a good strategy. You need to use a variety of tactics within digital marketing, such as social media, content marketing, branding, SEO, and digital advertising, to see results. In fact, there are so many choices and directions to take with your digital marketing that it can he hard to develop a winning strategy.
In order to give the process some clarity, it really does help to set some goals for your digital marketing before you even begin to create the strategy itself. It can help you focus your efforts on what actually needs to get done in order for you to achieve your objectives. Here are some thoughts on setting digital marketing goals in order to help your business succeed:
Define What Business Success Really Means
One of the things to keep in mind is that you should define what "business success" really means for your company. This will help you further hone in on your specific digital marketing goals. Does success mean more website traffic, more leads and sales, or more social media follows? Do you define success in a variety of ways? Your goals should connect to your definition of success, otherwise you will have a difficult time reaching your objectives. Defining what success means for your business is a good place to start. This will give you a strong idea of what you need to accomplish through your digital marketing.
Take Some Time Really Setting Quality Goals
After you know what "success" looks like for your business, it's time to figure out how you can turn this into some specific, measurable goals. For example, if you want to increase leads through digital marketing, specifically discuss which digital marketing channels you will be using and exactly how many leads you want. From there, you can work backwards and decide on a strategy that will help you achieve those goals. However, before you can determine the strategy, you need to have a clear idea of where you want things to go.
Find Ways to measure Progress for Your Goals
One thing that businesses often gloss over is that once you develop a digital marketing strategy and begin implementing, you should track your progress. Which KPIs should you measure? This will all depend on the specific goals you've set. If you want to increase leads, you should measure conversions on your website and other digital marketing channels, where possible. If your main goal is to increase quality traffic to your website, your KPI will involve assessing your traffic. It could be useful to look at both the all traffic numbers and organic traffic ones.
It is so important to take the time to set digital marketing goals before you plan and execute your strategy. You should also find a wya to measure progress by carefully selecting your KPI's. Once you do that, you can hone and tweak your program so that it can best benefit your business.
Categorized in: Digital Marketing
LIKE AND SHARE THIS ARTICLE:
READ OTHER DIGITAL MARKETING RELATED ARTICLES FROM THE BRICK MARKETING BLOG: