Is Your Digital Marketing Strategy Working?
Written by Nick Stamoulis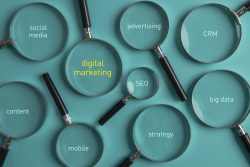 Digital marketing has become a crucial part of any business, and pretty much every business out there has a digital marketing strategy in place. In fact, as  people are becoming aware of its importance, which has, in turn, increased its use. By using various digital platforms, such as websites, blogs, social media, and other strategies, businesses are able to expand their reach.
After putting a digital marketing strategy in place, it is a good idea to assess its progress. So, how do you do that? Well first, you need to become clear on what you really want from your strategy. After that, you can examine the following to help you determine how successful it is:
Your Site Traffic Has Increased
Every business will have a specific audience they hope to attract through their digital marketing efforts. Digital marketing is an excellent way of building a relationship with your audience to become more familiar with your brand and what you offer. There is nothing better than knowing that your digital marketing efforts are paying off as, thanks to them, people from different places are visiting your site and becoming more interested in what you have to say.
Once this happens, your website traffic should be increasing. If you are doing things right, your traffic increases should be following a gradual, upward trend. If it isn't, you might need to make some changes. Be careful that you give yourself enough time to assess it. You should wait at least six months before assessing if your traffic is increasing from your efforts. It takes a while to get things going, and you don't want to make changes prematurely.
Keep in mind that traffic can come from many sources, whether it is from search engines, ad campaigns, social media, and more. This is a measure of your cumulative efforts.
Conversions and Leads Have Increases
Increasing your website's traffic is excellent, but it will be a waste if none of these people become leads or conversions. Many businesses hire digital marketers as they expect them to convert all of their site's traffic into leads and sales. If this happens, it is a good sign that the digital marketing effort is working.
This is where knowing your overall goals really helps. If you know you want to increase the amount of business you get from your online efforts, conversions and leads are great metrics. If they are increasing, you know things are on the right track. If not, then it is possible that you should be making some changes. Just make sure that you have given things enough time.
Digital marketing is viral and incredible for businesses to promote their brands. Once you have taken the time to evaluate your digital marketing efforts, you will see that they are working perfectly. When this happens, everyone, from the people who created them to the higher management, knows how great they are.
It is all an essential step towards building a successful business and knowing that it is working will only help you achieve more in your business.
Categorized in: Digital Marketing
LIKE AND SHARE THIS ARTICLE:
READ OTHER DIGITAL MARKETING RELATED ARTICLES FROM THE BRICK MARKETING BLOG: