How the Different Pieces of an SEO Strategy Work Together
Written by Nick Stamoulis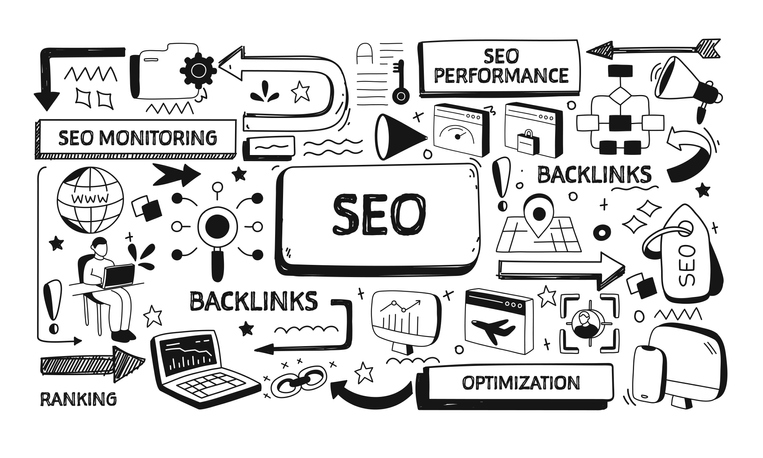 Search engine optimization is a broad term that applies to any activity that helps your website rank higher in search results. In other words, SEO is the process of optimizing your website to rank higher in search engines like Google. Once an SEO strategy is put into place, it will result in several benefits, such as increased traffic, better rankings, and even more conversions.
When put together correctly, a successful SEO strategy will positively impact all aspects of your business; however, just like any other project, many moving pieces make up the whole. SEO has many elements, including content creation and marketing your site on social media. When these pieces are put together, they create an effective SEO strategy. Here are some tips for combining these pieces into an effective SEO strategy of your own.
Keyword Research and Analysis
Before developing your content strategy, you need to perform keyword research and analysis. If you're working with a team or agency, someone else can-do keyword research. However, if you want to save time, you can often find detailed information about popular keywords and phrases through free tools online. Use this info wisely when coming up with ideas for blog post titles and headlines.
You may also use this data to determine which topics to cover first on your site or blog. Your goal should always be to provide helpful, value-filled posts for users, but if you know how much people are searching for something specific, you can write those posts before others who don't yet have them in mind. This increases the chances of getting clicks and leads from organic searches.
On-Site Optimization
Once you understand what types of keywords you want your site to rank well for, you'll move on to analyzing your current site. What does it look like? How can you improve it so it ranks better for specific keywords? Start by looking at your title tags. Are they optimized? Are they unique enough? Do they match the words people are using in their queries? Next, take a look at meta descriptions. Is yours engaging and brief? Then, check out each page's URL structure. Can you optimize it better?
One piece of advice to keep in mind: try to avoid URLs that include numbers, especially for pages related to product listings. Instead, go with a long domain name that includes important keywords for your business. Finally, do an overall review of one page at a time to see whether anything needs fixing. Remember to test things yourself instead of relying on software tools that tell you exactly what changes need to be made. That way, you'll be able to see whether they help search engines read your web pages better.
Content Creation & Marketing
Once everything on your site has been properly optimized, you'll begin creating new content and promoting it via various channels. Since every channel works differently, you'll want to focus on what works best for your audience. Social networks can help build relationships with your customers and increase brand awareness among people browsing the Internet.
Blogging gives you the chance to share fresh opinions and news stories while building authority in your niche – highly valuable factors on sites like Google. Videos can attract attention and encourage sharing on social networks too. Creating useful content takes time, so use paid advertising options to promote specific pieces. For instance, running a car dealership, ads targeted towards prospective buyers might cost around $100 per month. But if you have a special offer on your site, you could boost organic traffic significantly. People love deals, after all!
Link Building
Now that you have high-quality content and a suitable digital footprint, it's time to focus on link building. Many businesses neglect this step because they feel that links aren't as necessary anymore. But trust me, this is far from true. When most people think of link building, they picture shady back linking methods used only by spammers. That type of link building is wrong. The right kind will put your site in front of real visitors. As I mentioned above, you can start with guest posting. Another great option is to ask bloggers and authors for interviews and quotes in exchange for a mention on your website. It's a win-win situation. Plus, both parties end up getting more exposure than they would have expected.
Ongoing Optimization
The final part of any successful SEO strategy is ongoing optimization. You should be working on improving your content over time. This is where many marketers fall short. They just create new content, then sit back and wait for Google to come crawling along. Unfortunately, that isn't how SEO work. If you want your site to rank higher, you'll have to keep working on it. There are several different ways search engine algorithms change to make matters worse.
So, even if you're doing everything correctly now, you may not always be successful. While some of these updates are obvious (like Panda), others are less publicized (like Penguin). To stay on top of the latest updates, you must constantly analyze your website visitors and search rankings.
SEO is one of the very few fields which can provide results within weeks or months instead of years. However, it does require extensive knowledge of the field and plenty of patience to see things through before you succeed.
Categorized in: SEO
LIKE AND SHARE THIS ARTICLE:
READ OTHER DIGITAL MARKETING RELATED ARTICLES FROM THE BRICK MARKETING BLOG: