Strategies for Developing Compelling Content
Written by Nick Stamoulis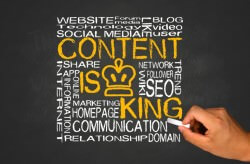 Since a good content marketing strategy distributes content across multiple platforms as a way to attract the right audience, it stands to reason that the nature of the content you write does matter. This means that whatever you create needs to be in line with your overall strategy, otherwise it will represent a wasted effort.
Taking the time to develop a great content strategy is essential to any business. That is why it is so important to get the execution right and make sure that your information is composed in the most optimal way possible.  But how do you do that, exactly? Here are some strategies that can help:
Develop Your Content Marketing Mission Statement
It helps to boil down your content marketing strategy into a single mission statement. Since the mission statement is short and focused, this will help focus your writing. The very process of writing the mission statement will offer anyone working on your content the opportunity to understand it on a fundamental level, which will make the writing much tighter.
Lead Your Niche With Quality Content
If you want to be taken seriously for your content, you need to become an established and recognized expert source for your niche. Not only that, but you should consider providing your customers with excellent quality content to be your number one priority. This will keep them coming to your site, which will benefit your business over the long term.
Answer Your Customer's Questions
Sometimes, the best way to make sure you are delivering content that will make your customers happy is to simply listen to them when they ask questions. Scan your help desk for recurrent themes. Or, simply ask them if there is any information they would like to know. One tactic is to distribute a questionnaire to your newsletter subscribers. You can even offer an incentive to increase the percentage of responders. If your customers know their needs will be addressed, they will be more likely to become repeat visitors to your site.
Personalize Your Content for Greater Accessibility
No matter what your content strategy is, personalizing your writing will endear you to your customers and make you more accessible. You don't need to disclose private information in order to appear endearing. However, your writing should have a friendly, accessible tone. This immediately gives your readers the feeling that you are speaking directly to them.
Be Careful Not to Sell to Your Customers
Even though the end result is that you want your customers to buy from you, your content should never convey that. The information that you share with your customers and your readers should never be written with the idea of selling anything. Your goal is to simply use that content to build trust with your customers and establish yourself as an authority. There are other areas of your site where it is okay to sell. However, any informational articles that are on your site are for informational purposes only and not to drive sales.
Content is important for your marketing efforts. It helps build your brand, allows you to engage with your customers and leads, and also gives your SEO program more opportunities to rank in the search engines. However, it's important to do it right!
Categorized in: Content Marketing
LIKE AND SHARE THIS ARTICLE:
READ OTHER DIGITAL MARKETING RELATED ARTICLES FROM THE BRICK MARKETING BLOG: