Don't Skip a Phase When it Comes to Content Marketing!
Written by Nick Stamoulis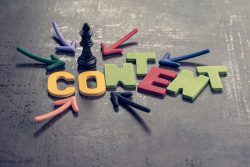 Content is the core of your digital marking campaign. However, it is only effective if it is done right. It isn't simply enough to write a few content pieces and then post them on your blog. Your content needs to be strategic in order to gain the most impact.
There are several phases that you need to go through in order to maximize the effectiveness of each of them. Not only that, but you don't want to skip a phase, or else your content won't work. Here's more information about this:
Plan
Every piece of content should serve a purpose. It's important to consider the entire buying cycle when creating content to ensure that you're capturing target audience members at various points of their decision making process. Examine your existing content. Are you focusing more on one part of the cycle than others? If so, shift the strategy to include more content that speaks to the other phases.
When creating content, you need to consider the big picture. What will the purpose of the content be? The article's purpose usually point to at least one phase of the customer buying cycle. It can also help to look at your existing data. What  has worked for you in the past?
Create
The reason why you spend so much time planning and creating a schedule is that it will make things easier once you do sit to write. You want too have a list of titles ready to go and you won't need to scramble to brainstorm. When working with a reputable digital marketing firm this will be the process. That way, when you sit down to write, you will have everything ready to go.
In fact, a reputable firm will likely create this content for you. However, you should be let into the process by approving the schedule, titles, and then finally, approving the work. If a firm doesn't allow you into the process, this could be a red flag that they won't necessarily create the best strategy for your needs. Working with a firm should be collaborative.
Promote
The ideal situation is that your content will gain momentum organically over time. However, there is nothing wrong with promoting it initially in order to give it a boost. If you want to see results, especially organically, you need to take a few extra steps to get the word out.
For example, you will naturally want to share the pieces that are written in social media. From there, you may choose to also advertise on the social media site by boosting the post. This option offers a  cost effective way to ensure that more people see the content which in turn results in more shares, mentions, and links; all of which promote your brand and improve your efforts. However, this option isn't for everyone, which is why you should come up with a strategy while working with a good firm.
Some people claim that content is SEO today. While that's not exactly accurate, it certainly is a huge part of it. When creating content for SEO, it's important to have a strategic approach to both its creation and promotion.
Categorized in: Content Marketing
LIKE AND SHARE THIS ARTICLE:
READ OTHER DIGITAL MARKETING RELATED ARTICLES FROM THE BRICK MARKETING BLOG: