Deliver Content Your Audience Wants to Read
Written by Nick Stamoulis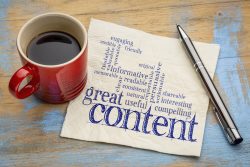 When it comes to creating content for your business, it is only natural that you will want to create content that your audience will be eager to read. There is a lot that goes into this, especially if you also consider that content needs to also serve the purpose of enhancing your brand and even helping people make buying decisions. However, no matter what the process is, the content needs to connect with them. Here's more information on how to connect your content with your audience in order to reach your business goals:
Develop Marketing Personas
When you write for an audience, you need to think of personas and brainstorm. Personas are the subsets of  people within the audience for whom you will be writing. You consider what their wants, needs and expectations are and they you compose the content with them in mind. This allows you to adjust and change your writing so that it will appeal to them.
To do this, you will need to discover what each of these personas will want to read. What is the type of content that will resonate with them?  What do they care about? What terminology will they understand? How can you change your writing to connect with them? As you find answers to these questions and brainstorm, you can adjust your writing to meet the needs of your audience.
Make Sure the Content Connects With Your Audience
Discovering the various personas you will be writing for helps insure that you will find ways to connect the content with your audience. However, discovering each of your audience segments, as well as the type of content each of these segments will embrace, is only part of the process. The next step is to develop content that actually connects with them. Here are some tips that will help you do that:
Address the pain points. When people feel as if their needs are understood, they will be more likely to read the content. Addressing each of the audience's pain points is an effective way to do that! Pain points can be any problems that they may have where they need solutions.
Offer solutions to their problems. Audiences not only want to feel understood, but they want to feel as if you can help them with their problems. If you offer solutions, this will be captivating for them! If you offer your own products or services as a solution, this is also good for you.
Make it friendly. No matter if your audience feels as if your content is addressed to them, they won't feel connected unless you master the art of friendly writing. The goal is to write as if you are a trusted friend, while also showing that you have authority and expertise.
In order to gain momentum on the digital marketing front, you really need to deliver content that your audience wants to read. To do this, you will have to get to know each segment of your audience, and then write your content in a way that engages them.
Categorized in: Content Marketing, Digital Marketing
LIKE AND SHARE THIS ARTICLE:
READ OTHER DIGITAL MARKETING RELATED ARTICLES FROM THE BRICK MARKETING BLOG: