Define Engagement Based on Goals
Written by Nick Stamoulis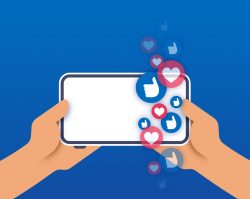 When it comes to social media, you should be defining the success of your campaign based on your goals. However, it is often the case that this gets lost in the process. You might have read an article talking about social media engagement and thought you should be assessing success based on how the writer has defined it. What these articles fail to mention is that they are basing their information on their own experiences. Every business is different, and how you measure success will differ.
The better approach is to think about your goals and determine how you will measure success. This is the case for every metric, and engagement is one of them. Here's some information that will help you when determining how you measure success of your social media:
Determine Your Goals
When putting together your social media campaign, you need to first establish what your goals are. What are you trying to achieve with your social media? If your chief concern with social media is to attract new prospects, your campaign will look a lot different than if your goal were to supply information to your current customers and employees. Your goals are where it all begins.
That being said, your goals will also impact your numbers. If your objective with social media is to increase leads and grow your business, you should expect higher numbers than if you are simply using social media to keep in touch with your customers and employees. Engagement will naturally be a lot lower if this is the case.
Share Your Own Content
Your goals will also help determine what kind of content will be part of your digital marketing strategy. Content needs to be in the conversation with social media because your social media profiles are much improved if you are able to sure unique content that represents your brand. Having your own content to share boosts your credibility in the eyes of your followers.
Sure, you can share content that you find on other websites, but the most impactful choice is to share your own. In fact, one of the clear ways that you can improve engagement is to make sure that you have your own content to share. Again, the content that you write and then share in social media should align with your overall business goals. Otherwise, you won't get as much out of this strategy as you could.
Have Realistic Expectations
One of the key things to remember is that you should have realistic expectations when it comes to social media engagement. Your expectations should align with your goals. If you wish to use social media to help you attract new business, your social media numbers will depend on the overall size of your market. If your business operates in a specific, focused niche, your overall traffic and engagement won't be all that high. If you are a larger brand with a big slice of the market share, your engagement might be higher.
In there words, you need to understand what our goals are in order to define success. Your expectations should be realistic so that it can put your results into perspective.
Categorized in: Social Media
LIKE AND SHARE THIS ARTICLE:
READ OTHER DIGITAL MARKETING RELATED ARTICLES FROM THE BRICK MARKETING BLOG: