Definition of Domain Authority
Written by Nick Stamoulis
Domain authority (DA) refers to a measure of the power of a domain name. It is just one of many search engine ranking factors. Domain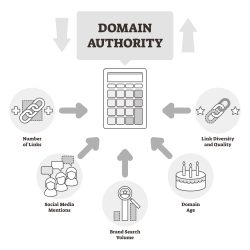 authority is based on three things: size, popularity, and age. Domain authority can help you build a strong SEO strategy, which makes it an important marketing metric. Domain authority does not guarantee success, but it can help to predict it. Here's what you should know about domain authority.
Is there a difference between domain authority and page authority? You may see both terms and wonder if they are the same. They're not. Domain authority measures predictive ranking strength of the domain or sub domain as a whole. Page authority only measures the strength of individual pages.
How is domain authority calculated? Domain authority is calculated by evaluating a number of factors. These factors include linking root domains and the total number of links into a single domain authority score. Over time, this score can be used when comparing website strength. Domain authority is based on machine learning calculations, the calculation of your website's score can fluctuate often as different, more, and fewer data points are available and worked into the calculations.
What is a good domain authority score? Domain authority scores range from 1 – 100, the higher numbers meaning a higher likelihood of ranking. A website with large numbers of high-quality external links (think Google and Wikipedia) will rank at the top end of the scale. A website with fewer inbound links is more likely to have lower domain authority scores.
Can I increase my website's domain authority? It is possible it increase your domain authority by improving your website's search engine optimization (SEO) health. You want to focus on quantity and quality of external links that point to your website. You will also want to build high-quality back links. The more you have, the higher you can expect your score to be. How can you do this? By creating great content and promoting it. You may also want to consider guest blogging, which can allow you to back link to your own website. Keywords also play an important role in your SEO ranking. Be sure to include variations of your main keywords. By creating long-form and in-depth content, you can cover a wide area of the topic.
Improving your domain authority can also be done by making sure that your website is mobile-friendly. With so many people surfing on their phones and tablets, you do not want to neglect this. A good mobile experience will improve visitor's chances of coming back and recommending your site to others.
Also be sure to double-check that any anchor text links to the correct page and the speed of your website. Slow loading websites have high bounce rates, which is a red flag to search engines. Improving user's experience is a good way to help improve your domain authority.
Domain authority is just one of many search engine ranking factors, but an important one all the same.
Domain Authority Definition Sources:
Categorized in: Digital Marketing Glossary
LIKE AND SHARE THIS ARTICLE:
READ OTHER DIGITAL MARKETING RELATED ARTICLES FROM THE BRICK MARKETING BLOG: