Definition of Backlinks
Written by Nick Stamoulis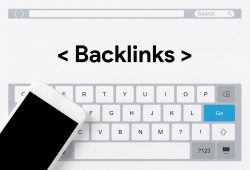 Backlinks, also known as inbound links or incoming links, are links that are created when one website links to another website. Backlinks are an important component of search engine optimization (SEO). SEO can drive more people to your website, increase conversions, increase your authority, and help to grow your business.
A backlink can viewed as a good recommendation from another site. It lets an individual know that your website can be trusted and has content that is worth their time and attention.
Are all backlinks created equal? While you can acquire a lot of backlinks from low-quality sites, having links from well-known and good quality sites will be seen in search engine's, such as Google's, eyes as more legitimate and trustworthy. Backlinks show search engines that your content is worth more views. If many different sites link back to your site, this signals to the search engine your website is reputable source. This will get you the higher ranking in searches that you want. You can even outrank websites that have more backlinks than yours by having licensed and other credible people in your niche backlink to your website. Their credibility will increase your views and credibility.
What is the benefit of backlinks? As mentioned, backlinks can show in search engines that your website is worth visiting. More eyes will see your website and the more visitors it will get. This will also translate to a higher conversion rate, which is especially helpful if you are selling services or products.
How can you help to increase your backlinks? Being a guest blogger, commenting on blogs, having articles published, and social media engagements are just a few ways you can increase your website's backlinks. If you are an expert on a particular topic, you can become a source for bloggers and other writers. You can also use your expertise to create an ultimate guide. These guides contain a lot of content in just one page. SEO ranking factor studies have shown that long-form content performs better in Google than short articles. Your guide can become an important resource for people who want to know more about the topic you are educated about. When those people recommend it on social media or include it in their own blog, they will likely link to it.
If you have more than one company, you can create relevant content and link one to the other. Only do this if it makes sense. If you randomly promote one company in another company's blog, it won't make sense and may confuse readers enough to turn them off from interest in both companies.
Backlinks are especially important for SEO as they show trust from one site to another. When many websites link to yours, search engines will pick up on this and your website will begin to rank higher. When you rank higher in searches, more eyes will be on your website which will translate into higher conversions.
Backlinks Definitions Sources:
Categorized in: Digital Marketing Glossary
LIKE AND SHARE THIS ARTICLE:
READ OTHER DIGITAL MARKETING RELATED ARTICLES FROM THE BRICK MARKETING BLOG: