Create a Content Series to Maintain Engagement
Written by Nick Stamoulis
In case you weren't aware, Google pays attention to bounce rate as one of its many, many search algorithm signals. That means that if someone lands on your content and immediately clicks away, Google takes note. Many things can lead to a bounce but one of thing that could lead to a bounce that you might not be thinking of is the length of the content. We may have been trained that "more is better" but when it comes to how people interact with content that might not be true. People have limited attention spans when it comes to web content today. They want to quickly scan something as opposed to dedicating 20 minutes of their day to reading a piece of content. If someone clicks on your content and sees lengthy text they might think, "No way" and go looking elsewhere for content that explains what they're looking for in a more succinct way.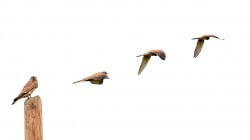 So what does this mean for you as a content marketer? It means, keep the lengthy posts to a minimum. If you have lots to say on a particular topic, that's great, but why not split that topic up into smaller pieces that are easier to digest? By creating a content series you are creating content that is much more manageable and that will keep readers engaged with your brand for a longer period of time.
You have two options when it comes to creating a content series. First, you can start from scratch. This means that you'll need to think of a topic and then determine how you can break it up into smaller pieces. It will involve some planning, but once you have everything laid out you'll be able to move on to writing each section. You won't be sitting there wondering what to write about because you already know. In many ways, the tough part is out of the way!
The second option is creating a content series by repurposing existing content. If you've been publishing content for some time, go back and take a look at some of the long form content that you have like whitepapers, eBooks, case studies, etc. How can you divide these up into smaller segments? These pieces of content may already be segmented by chapters, subheadings, etc. which creates a great framework. You've spent a lot of time and energy creating these long format pieces of content, you should get as much out of them as possible!
As a reminder, content doesn't just mean text. Really, anything that you publish online works. Do you have an impressive video library or collection of webinars? How long are they? Sometimes anything more than 5 minutes can be a turn off for a busy consumer. Edit these videos and webinars down to more manageable timeframes to create a series.
What's great about a content series is that it's a way to hook your target audience and keep them engaged. If they know up front that the series will include one short blog post, video, etc. a day your audience will likely be more willing to check it out. Splitting content up like this also helps to keep your social channels active. Instead of publishing one long piece every week, you can publish shorter pieces every day.
Categorized in: Content Marketing
LIKE AND SHARE THIS ARTICLE:
READ OTHER DIGITAL MARKETING RELATED ARTICLES FROM THE BRICK MARKETING BLOG: