Content Strategy Should Be Aligned With Branding
Written by Nick Stamoulis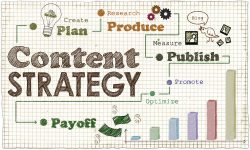 It's true that content is an important component of digital marketing. A few years ago, the common mantra was that "Content is King". However, that only tells part of the story. Content is important, but these days, care needs to be taken to develop the best strategy for your brand. Otherwise, your online marketing efforts won't be maximized. Here's more information about this:
Consider Your Content Strategy Carefully
Developing a content strategy includes planning and developing the right mix of content for your business. This includes articles, website content, images used on the website, and even creating social media posts. Businesses not only need to create the content but also develop a schedule that is right for the company. This strategy will push the content to the correct marketing channels, both online and offline.
Development and creation are the content idea and actual phases of creating the articles, videos, images, and social media posts. Many times, a business will create a new theme every week or every month depending on the season and types of messages businesses want to convey.
Develop a Strong Brand Identity
The stronger the business's brand identity is, the easier it will be to create a great content strategy. Branding is the name, term, symbol, design, or any other representation of a company, and it's products and services. The goal of good branding is to have people recognize the brand associate it with the company immediately.
Branding is a way of making your business stand out from all of the others and leaves a distinct impression on people. Your company brand should be designed to be a true representation of what your business is and how it should be perceived. Good branding is intended to create new opportunities for your company and increase your brand's awareness. Keep in mind that the better your branding, the more identifiable your business will be.
Aside from attracting more consumers to your business with a brand, keep in mind the future value of your company and the leverage it receives will depend on its brand effectiveness. The better your branding, the more valuable your business becomes overall.
Brand Identity and Content Work Together
Content strategy has a symbiotic relationship with branding as these two work in tandem to fully market your business. Both your content strategy and branding will determine how you genuinely connect with potential and existing customers.
The goal here is to use your brand's unique attributes to create some great content. For example, you can consider the stories of your dedicated employees and position your business in a way that celebrates who you are and your values as a company. Another thing you can do is et to know your buyers with personas and tailor your products and services to their preferences. When this method is used consistently, it can increase your rate of sales exponentially.
Be sure to align your content strategy with your business branding. When you have a staff of content marketers, the goal is to keep everything consistent with the image of the company. Ideally, your messages in your content strategy should be inclusive, respectful and in line with what makes people feel great. Consider what will lift their spirits and make them smile. Always take a positive approach to content strategy and branding to reach the widest possible audience and create long-term value for your business.
Categorized in: Content Marketing
LIKE AND SHARE THIS ARTICLE:
READ OTHER DIGITAL MARKETING RELATED ARTICLES FROM THE BRICK MARKETING BLOG: