Content is About More Than Articles
Written by Nick Stamoulis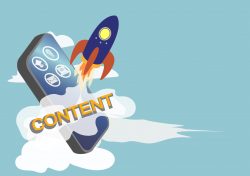 Content marketing is essential in helping your business create an impression of your brand. Good content helps attract your target audience and creates engagements that lead to sales. The good news is that there are various types of content marketing that you can use to promote your business. Many people thing that content just involves articles and regularly posting on the website. However, there is much more to it than that. Here is a look at all the types of content you can create:
Articles
It's true that articles are the most common type of content marketing. Its popularity is owed to its relatively lower price and effectiveness in increasing leads to a business. Create genuine content that will attract the attention of readers. Write topics related to your products and services and add links to your business to naturally promote it. Use simple language and don't overstuff your content with keywords. Blogs offer a chance for you to constantly refresh your website and give you more chances to be found online.
Social Media
Social media posts are definitely considered content. The right social media marketing technique can reach a big market and create a difference in your business. You can use Instagram and Facebook to market your products and services. You can also create and post images or videos on your social media accounts to increase awareness about your business and what it offers.
Video
This type of content marketing involves producing, using, and sharing video content to a specific target audience to promote and market a business. Video content marketing is particularly used in helping potential customers learn more about a business and its products or services. To make video content marketing work for you, post relevant, consistent videos. Make your video content fun to attract and promote engagement with your target audience.
Infographics
Infographic content marketing involves using imagery data visualizations to communicate to a target audience. It uses minimal text and is easy to read and follow through. To make your infographic content stand out, use simple but meaningful visualizations and texts to pass information. Brand your infographic content, illustrate your points using authoritative data, design a template and use symbols to illustrate your points. Use infographics with other marketing techniques to expand your reach.
Podcasts
Podcast content marketing is an effective marketing technique that uses podcasts. High-quality podcasts are a goldmine for marketers as they encourage high engagement levels and promote brand loyalty. A podcast is easy to create and can be transformed into written or video content. Professionally create podcasts to increase awareness about your brand. Discuss topics related to your brand, products or services to ensure relevance. It would help to distribute your podcast via podcast networks to reach more people. Invite industry leaders and other top business people in your field of business to make your podcasts more interesting.
These are the different types of content marketing. Since each of them has its pros and cons, it is recommended to combine a few content marketing strategies to achieve the best marketing results.
Categorized in: Content Marketing
LIKE AND SHARE THIS ARTICLE:
READ OTHER DIGITAL MARKETING RELATED ARTICLES FROM THE BRICK MARKETING BLOG: