Make Sure Content Connects with Your Audience
Written by Nick Stamoulis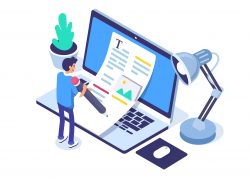 When it comes to content, your audience should be at the top of mind while writing. Even still, constantly generating ideas for content can be difficult. Simply knowing about your audience isn't enough. Your strategy needs to be developed and written to maximize your connection with the audience. If it doesn't, you won't have the success that you desire. Here's more information about this:
Be Creative When Writing Your Pieces
Content should be creative, because if it isn't, it won't resonate with your audience. Having your content seen is one of the finest methods to stand out. The first stage is to get people to stop and look at your photographs. However, your inventiveness should not end there. Consider not only the graphics but also the shape and format of your material. It's possible that the way you present your material is just as crucial as the information itself. It is important to make it distinct.
Make Sure Content is Relevant
The significance of relevance in content creation cannot be overstated. Your material must be completely relevant to the audience you're attempting to attract. You can't please everyone with your material. In order to create content that your audience wants, needs, and craves, you must first understand them, their requirements, and their pain spots.
Listening and tracking on social media might help you figure out what your target audience wants and needs. Testing different sorts of material will allow you to identify what meets and surpasses their expectations. Your content advertising is a way to demonstrate to your target clients how relevant you are.
Content Needs to Add Value
Your content must deliver value to your target audience. You risk losing your audience if you continue to create useless content. Value is the glue that holds your audience together, and your content is part of that. Action is the most significant desirable consequence of content marketing, and value is really what drives action.
Don't be hesitant to share your greatest material. If you deliver value through content, you will see a return of investment in the form of a more connected audience and increased brand recognition.
Be Sure to Engage Your Audience
Readable, shareable, and commentable material demands to be read, shared, and discussed. It is stimulating, interesting, informative, humorous, contentious, entertaining, and so on. Engaging content elicits an emotional response from your viewers and encourages them to talk about it. However, it's not just your content that has to be compelling; your company and brand must engage with your target audience.
You must take the initiative to start dialogues about your content and consumers. When your audience contacts you, you must respond quickly. It's a two-way road when it comes to engagement. Engage your audience and take your connections to the next level.
In today's marketing toolset, content marketing is a must-have. By including the above tips into your content marketing strategy, you'll be able to constantly supply new material while also maximizing the resources and time you commit to content creation and dissemination.
Categorized in: Content Marketing
LIKE AND SHARE THIS ARTICLE:
READ OTHER DIGITAL MARKETING RELATED ARTICLES FROM THE BRICK MARKETING BLOG: