Content is the Most Important Component of B2B SEO Today
Written by Nick Stamoulis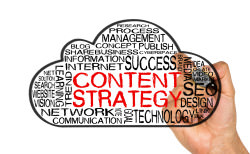 With all of the SEO rules changing as often as they do, and SEO tactics that were once beneficial now on the "bad" list, website owners that want to improve their search engine presence are now left wondering, "what can we do?" What we always tell our clients is that the most important thing that they can do to help improve their B2B SEO efforts is to produce quality content on a regular basis. This can be in the form of blog posts, guest blog posts, articles, white papers, press releases, webinars, etc.
Here are 2 key reasons why content is a necessary part of a B2B SEO campaign:
Content generates inbound links
In the early days of SEO there were plenty of ways to get inbound links back to your site and the focus was on getting as many inbound links as possible. Quantity was the goal, not quality. Link exchanges were common as part of a "you link to me, I'll link to you" agreement. As the search engines cracked down on this sort of practice that was meant to manipulate the search results, it became much more difficult to generate inbound links. The best types of inbound links are the ones that occur naturally when a third party website owner thinks that you are worth linking to. Think about what kind of link this would be. Are they going to be linking to your service pages? Maybe, but not all that often. Third party sites are going to link to informational content that their audience will find beneficial. By consistently creating quality content you will be viewed as an authority in your industry and links to your content will serve as reference points that can supplement the content of others.
Content fuels a social media campaign
A social media campaign is a necessary component of online marketing today. After all, social media is where people spend lots of time online. It's important to have a brand presence there and to keep your social media accounts active. There is no point in having a social media page for your business or brand if you never update it. One of the issues that businesses have is trying to figure out what they should be sharing in social media. If you are creating quality content on a regular basis, you will always have a steady stream of social media posts to coincide with when the content is published. If it's possible, try and publish evergreen content as often as you can. This kind of content can be published in social media multiple times, since it will continue to be relevant for months or even years in the future and it's doubtful that all social followers saw it the first time around. For SEO purposes, it's necessary to get links shared in social media in order to improve your social signals, which indicates to the search engines that a page of web content is beneficial.
Categorized in: Content Marketing
LIKE AND SHARE THIS ARTICLE:
READ OTHER DIGITAL MARKETING RELATED ARTICLES FROM THE BRICK MARKETING BLOG: