Your Content Strategy Should Be Unique
Written by Nick Stamoulis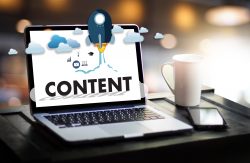 It's true that content marketing is a vital part of any digital marketing strategy. However, many businesses make the mistake of doing exactly what their competitors are doing, or they simply pick a strategy that they didn't put a lot of thought into. The truth is, each business has its own unique strategy that will work. For your business, your content marketing will be so much more effective if you take the extra step to make sure your strategy is customized for your unique business needs.
Know Your Audience
Getting to know your audience is the most important thing for your business's content marketing. After all, it is your audience that you want to attract and please. You need to know who you're targeting. If you don't know your audience, you can't create the type of content they want to read on social media or otherwise. Getting to know your audience will help every other aspect of your digital marketing, as well, not just your content marketing.
Part of this process includes knowing what your competitors are doing. In doing so, you can make sure that you are providing similar information but in a unique way. If it makes sense for your audience, find a new, unique way to spin the topic in a way that suits your unique branding. You don't want to recreate the bar, but you do want to show your audience that you stand out in a way that is different from your competitors by changing things up slightly.
Create Quality Content
Once you know what type of content your audience wants to read, the next step is to start creating it. However, this is much easier said than done. You need to understand the needs and wants of your audience to create the content they want. If you do this, then readers will be happy to read your content and share it with others. Not only that, but you need to make sure your writing is tight and that your audience actually wants to read what you're writing.
Also, Don't assume that everyone wants to read the same type of content. For example, if you're a business owner, you might want to write about personal finance and some small business tips. If you're a parent with kids, then you might want to write about how you saved money on your daycare.
Keep Track of What Works
The only way you can improve your content's effectiveness is by analyzing what worked and what didn't work with your audience. To do this, you need to keep track of your content performance. That way, you will be able to understand how changes in content or better quality content could help improve the impact of your content marketing strategy. In other words, some strategies may work better for you than others, and you can gain clarity by assessing content performance.
The more consistent you are with your content, the more readers will know they can always rely on you to provide quality content. If you're inconsistent, then readers might view your brand as unreliable. Stick to a schedule and write a certain number of posts per month.
Categorized in: Content Marketing
LIKE AND SHARE THIS ARTICLE:
READ OTHER DIGITAL MARKETING RELATED ARTICLES FROM THE BRICK MARKETING BLOG: