What Are The Types of Web Content?
Written by Nick Stamoulis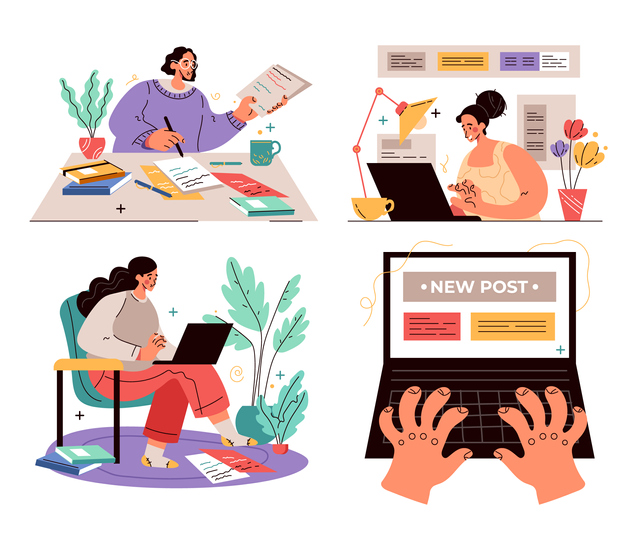 Web content is defined as any writing and all associated digital media, such as text, audio, video, and images published on the internet. Web content is created using many different formats: writing, photography, film, video, and images. It is generally considered a creative expression of thoughts and ideas that may or may not have a commercial purpose.
With today's society and the growing digital technology, the rate of information bombarding people's lives has doubled in the last ten years. So, it's no surprise that people are searching for ways to control their ever-increasing sources of information overload.
There are different types of content on the web that you can use to cater to your audience's needs. You will have to adjust your strategy depending on what type of content you use, as it directly impacts your site's performance based on its quality and amount. Below are the some of most common types of web content:
Text Content
The first and most common type of content found online is text. Unlike other forms of media, the text is easily adaptable, and it can be written in many different styles. It can be formal and professional or casual and personal. This feature of the text is easily adaptable to different audiences and uses.
Text is a continuous series of characters, often without spaces or punctuation, which is represented visually as text in the form of writing, usually in the creator's language. The text is easily adaptable to different audiences and is used through this feature.
Image-Based Content
Images are becoming more and more popular on the internet, where the following type of content comes in. Images accompany the text and provide visual context for readers when reading text that doesn't include images. One can also upload images in their own right instead of being added through a short text post. Images are a prominent feature on the web and are created through photographs, graphics, vector art, or video. Images are widely used for branding.
Video Content
Video is another type of content that makes it onto sites' homepage pages because it's an effective way to attract attention. Videos can make your site more appealing through emotional appeal and visual appeal. It can be both fun and informative, or severe and educational.
Video is an effective way to attract attention because it's a continuous series of images, sounds, or video clips represented visually as moving images in the form of communication. Using video on your site will make your site more appealing because it represents information clearly through a visual medium.
Multimedia Content
Multimedia content is considered any online media that includes more than one type of media. The most common forms of multimedia content include audio and video. Audio is music or sound used to show emotion or give spatial depth in a piece of writing. Sounds and music can accompany the images to create a practical effect when delivering a message in the video.
Interactive Content
Interactive content works precisely like a traditional website, except that it includes elements that use computer-based input devices such as computers, game boards, buttons, keyboards, and start-up firms. The user can interact with the content through these devices. Interactive content allows users to experience and play with the content more entertainingly. This type of content appeals to people with an analytical mind and those interested in finding solutions to problems.
Embedded Content
Embedded content is often found on video and audio players on websites, blogs, and social networking sites. This type of media is embedded into other pages and can be called up by clicking a link or button. This type of content allows you to reach a wider audience and deliver your message more appealingly, as it allows you to tailor your message according to the needs of your audience.
E-books
An e-book is a text-only book downloaded onto computers or other electronic devices, such as phones, where it can be displayed on a screen. It means that the user can read the book without using paper. E-books are also known as eBooks E-book is an acronym for electronic book, a term coined by Sony. E-books are available in a wide range of formats and have varying levels of interactivity.
Audio-Visual Content
An Audio-Visual A/V is any media that includes audio and visual material such as television, film, slideshows, and computer-generated images. It means they are also known as Spoken Word – Visual Content. They are mainly used for entertainment, education, and information purposes. This type of content is becoming more popular because it creates an effective way to deliver messages and ideas. A/V content is also a popular feature of websites because it helps with users' user engagement.
In conclusion, web content plays an essential part in making the internet a valuable tool for businesses and other organizations. One should create Web content to provide value to your customers by making them memorable, usable, and appealing. Web content can be as simple as a blog or as complex as a significant business website. Content is a vital part of your online presence so make sure you have crafted it well.
Categorized in: Content Marketing
LIKE AND SHARE THIS ARTICLE:
READ OTHER DIGITAL MARKETING RELATED ARTICLES FROM THE BRICK MARKETING BLOG: