Offer Your Referral Sources Lasting Value Throughout the Year
Written by Nick Stamoulis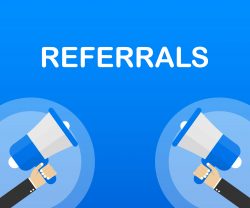 This is a guest post by Steve Klinghoffer, President of WPI Communications, Inc.
Many people base the bulk of their purchasing decisions on relationships and on things like social proof (e.g., a friend's recommendation, a colleague's referral or a glowing review), good customer service, or how they—or someone important to them—feel about a business or brand. Thus, it's no wonder most practices send their referral sources gifts and greeting cards during the holidays.
But why reach out only during the holidays? Why not do it throughout the year? Communicating regularly with your referral sources gives your practice an edge over competitors because as much as people appreciate receiving baskets of fruit or boxes of chocolates in December, several other businesses are likely sending them the same thing. You're fostering goodwill, but you're not standing out.
"Out of sight, out of mind," is all too real among referring professionals, whether they're physicians, dentists, physical therapists, accountants or attorneys. If you want to be at the forefront of people's minds, you have to reach out often and in a way that stands out. So instead of sending them flowers that are likely to wilt in a couple of weeks or food that will be consumed in a couple of days, why not send them valuable information they can use to manage and grow their practice?
Let's say you're a physical therapist. There's a steady flow of research being conducted on anything from myofascial trigger point therapy to the best diet and exercise programs to manage osteoarthritis. Our extensive research shows that sending summaries of these studies to orthopedists, athletic trainers, family physicians, sport medicine specialists and other health care providers is considered valuable by recipients.
The best way to package this information is through a well-written and well-designed newsletter. Certainly, if you had the time and resources, you'd want to take your referral sources out to lunch every month to nurture your relationship over a discussion of the latest research and trends in your field. But this is an impractical, inconvenient and near-impossible task. Fortunately, a newsletter, when published regularly, accomplishes nearly the same thing: It keeps your practice top of mind. You may be the most competent endodontist in the state, but if referring dentists don't know you or can't recall your name, they won't refer their patients to you. Competence is crucial, but so is visibility.
Of course, you can achieve visibility by mailing out flyers, brochures or even your business card to referral sources. But that can be tacky. Besides, the point is to be able to reach out to them regularly. You can redesign and print your brochure and business card each month, but that's even tackier—not to mention expensive! In contrast, a newsletter can inexpensively offer fresh content each time. It's also professional and subtle in its marketing efforts. It allows you to show, instead of tell, your expertise (e.g., through "how-to" articles and tips), accomplishments (e.g., through case studies or success stories), and deep immersion in the field (e.g., knowledge of the latest research findings).
Remember: food, flowers and knickknacks have a limited shelf life, while useful information can be recalled, recommended and passed around. Stand out by offering your referral sources lasting value throughout the year in the form of a monthly newsletter.
About the Author:
Steve Klinghoffer, with his wife, Lori, founded WPI Communications, Inc., in 1984. He helps professionals market their practices through a wide range of editorial-based tools, such as client and patient newsletters, referral-generating newsletters and Web site content. Over the past 28 years, Steve has worked with thousands of physicians, dentists, physical therapists, accountants, attorneys, financial planners and other professionals to help them build their practices.
Categorized in: Content Marketing
LIKE AND SHARE THIS ARTICLE:
READ OTHER DIGITAL MARKETING RELATED ARTICLES FROM THE BRICK MARKETING BLOG: