Content Shouldn't Be an Afterthought
Written by Nick Stamoulis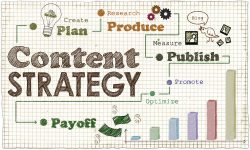 When it comes to creating a website, many people focus on how the website looks. While this is an important component, this shouldn't be everything. Too often, we see that people focus on how it looks, and then completely neglect the content. Although the site should look nice, it is important to remember that your visitors find your site because of its content.  If you neglect to provide good content, you'll lose out on potential customers who were looking for exactly what you had to offer.
Create Useful Content for Your Audience
Most people don't realize that a website can be more than just a place for you to put your products and services. A company's website is also an important marketing tool, which means it needs to have good content. If visitors come to your site and find nothing useful, they will move on to your competitor's site.
Yes, it's important to describe your products and services (more on this in a moment). However, the golden rule of content creation is to provide value to the reader. Depending on your business, this can mean hosting a blog with industry news or featuring tips and tricks related to your target customer demographics. Whatever it is, provide content that will encourage visitors to invest time getting to know your products and business.
Develop Your Community
Good content converts visitors to customers and customers to community members. Having a social media presence is crucial for any modern business. By sharing valuable content from your website, you can foster a relationship with your social media followers. For a lot of businesses, potential customers won't immediately understand the value of specific services or products. This is why it's important to create a context for the customer to understand and engage with your business.
Content Supports Brand Identity
From product descriptions to refund policies, all of your copy is sending a message. It's important to take the time to plan out what tone will work best for your business. In some industries, authoritative or industry-specific language can give a potential customer confidence in a service or product. Other times, it's best to keep things simple and welcoming. Having quality copy relevant to your brand identity means visitors will see your business in the best light possible.
Good Content Means Readability
You've read about the benefits of good content, but now it's time to talk about why bad content is bad. Poorly written copy will not only fail to engage with your readers, but it has the potential of turning them off completely. If they find nothing of value in what you're saying, or they're confused by how you say it, they won't read any further.
Writing and reading web content works differently than enjoying literature or poetry. Visitors will be skimming your site and reading quickly to find what they need. If you don't take the time to write carefully, or hire a professional, you could frustrate visitors.
Content is the core of any website. Neglecting the quality of your content could undo all the hard work you've put into making a website in the first place. Take your time, make a plan, and hire a professional if your budget allows. After all, content is king.
Categorized in: Content Marketing
LIKE AND SHARE THIS ARTICLE:
READ OTHER DIGITAL MARKETING RELATED ARTICLES FROM THE BRICK MARKETING BLOG: