Choose Topics for Content Carefully
Written by Nick Stamoulis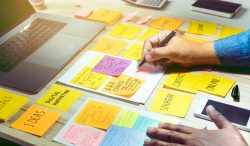 It is true that content is the cornerstone of your digital marketing, but it will only be effective if the topics are carefully chosen. They need to  be aligned with both your sales cycle and your audience. In other words, you should provide your audience with content about what they care about, and since you are a business that needs to attract customers, you will need to use your content to attract people who will be interested in what you have to offer.
This means that you need to choose your content carefully. Even though you might need certain types of content to attract the right audience to your business, it needs to be helpful to them. They can't feel as if you are selling to them. In other words, you need to put the needs of your audience first.
Besides that, how can you keep your topics fresh? It's all too easy for content to feel stale, or that you keep writing about the same things.
Keep Up with Industry Trends
One of the ways you can freshen up your content is to keep up with industry trends. This is one area where you will need to be careful, though, since not every industry trend will be something that your audience will care about. You need to decide if the trend actually has relevance to your audience, and also is something that your business will benefit from. In order to find the trends, monitor industry publications, news outlets, and other industry sources. It is only worth writing about these trends if your audience will benefit from knowing about them.
Ask Your Audience for Tips
Your customers are a great resource for finding content because they're the ones who have know what they would like to know. Simply asking them for ideas on what kinds of content they would like to see can help you find new topics. Even better is that this is a surefire way to deliver content your audience cares about.
If you don't want to ask them directly, then see if you can find any articles that list common questions people tend to ask in their industry and use those as inspiration. Once you've written down all of these topics, choose which one best fits with your brand's voice or personality.
Use Keywords to Inspire Topics
You can also use SEO and keyword research tools to help you find keywords that will make for great topics. The tools will give you an idea of how much interest there is overtime on certain types of keywords related to your topic area. This way, not only do you get a sense of whether this might be a good article topic, but you'll also get an idea of how much competition there is for these keywords.
It is a good idea to keep your content fresh, but only if you determine that your audience will respond will to the topics. You can't keep writing the same things all the time, but you don't want to overdo it and choose topics that no one will read. It pays to be careful.
Categorized in: Content Marketing
LIKE AND SHARE THIS ARTICLE:
READ OTHER DIGITAL MARKETING RELATED ARTICLES FROM THE BRICK MARKETING BLOG: