Are CMS Platforms Necessary?
Written by Nick Stamoulis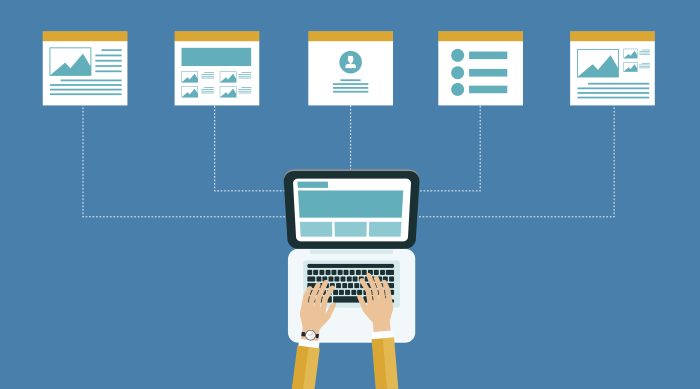 Millions of websites are built with CMS, or content management system. CMS allows multiple contributors to create, edit, and publish digital content. CMS platforms play a role helping to launch digital content and manage the complete digital experience, including mobile apps, social media, email, and websites, to name a few. You might be curious if a CMS platform is necessary or a matter of choice. Here are some things to think about before you make a decision:
Features of CMS Platforms
CMS platforms offer a variety of capabilities that can help to streamline your content. This can be especially helpful for people who are not developers and don't code. The ability to install extensions that add functionality to your website, without the use of coding, is probably one of the greatest advantages of CMS platforms. Other capabilities include:
Improved Presentation. Users are known to jump from one device to another throughout the day, so having CMS automate the presentation of content depending on the device used is important. CMS offers quick development that includes mobile friendliness, which is important now that people switch devices depending on where they are. You want your target audience to be able to read your content comfortably on any device they choose.
SEO-friendly. When choosing a CMS platform, it's important to choose one that is optimized for SEO. A good CMS will give you control over page URLs and meta descriptions.
Pre-made Templates. Templates come in handy so that you won't need to create a new page or post from scratch each time you publish new content. A template is a single-page layout that may be offered in the form of pre-built website pages, email templates, and landing pages.
Detailed Analytics. Analytics are key to the success of your website and business. A CMS platform that offers insights about your target audience will be of benefit.
CMS Platform Drawbacks
There are a few drawbacks to using a CMS platform. It can be time-consuming, for example, even though in some cases it can save you time. A CMS can pose a security risk and needs to be regularly updated and maintained. If your website hosting company notices that you are not maintaining your website to keep it safe, they may shut down your website to avoid encountering these risks.
If there is a security hole in your website, for example, this can lead to other websites on the same server being compromised. Learning CMS can take time as well. It's a new tool that requires learning to get the hang of, but can be worth it if you think it will benefit your business. CMS platforms can have limitations in functional requirements, which can be a problem if your project is large with multiple processes and workflows.
Is a CMS Platform Necessary?
When it comes to posting content, a CMS platform is not a necessity. Your goal is to create and post content consistently. While you can use a CMS platform to make tasks more convenient for you, your priority should be creating relevant content for your target audience. Once you are producing content on a regular basis and want to set up a schedule to post so that you don't have that task on your plate, this is the time to consider a CMS platform. Developing your strategy for content and your overall business goals should be your focus. Using a CMS platform is a nice addition that can make things easier for you.
CMS platforms are not necessary for content creation, but there are some benefits you may want to take advantage of. It's important that you don't lose sight of your goals when implementing a tool such as a CMS platform.
Categorized in: Content Marketing
LIKE AND SHARE THIS ARTICLE:
READ OTHER DIGITAL MARKETING RELATED ARTICLES FROM THE BRICK MARKETING BLOG: