Your Business Website Should Add Value
Written by Nick Stamoulis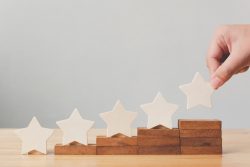 Most of us know that a business website serves to let people know about their goods and services and to attract potential clients or customers. On the surface, the website is designed to showcase all that the business has to offer. However, potential and existing clients and customers may be turned off from this. If the website is created with their needs in mind, however, this will add tremendous value that will help the business grow.
It doesn't matter what type of business you have because there are certain truths that will always pertain. The website should build trust and add value, and you do this by designing the website in a certain way and making sure that the content on the site helps you achieve your goals. Here are some insights:
Build Trust
Your business website offers an excellent opportunity to build trust. To do this, they are looking for more than the basic information. People want to know why they should make the decision to do business with you. For most, this is about more than just the price. They want to feel like a brand is the perfect fit for their needs. Here are some basic ways a website can convey this sense of trust:
Images. The images on a site should be in line with the brand messaging and be as authentic as possible.
Be up front. Information such as the business address, phone number, contact us forms, and social media profiles should be clearly visible on nearly every page.
Testimonials. Potential customers and clients want to see proof, and there is no better way to do that than to showcase authentic testimonials from happy customers.
Case studies. These work for a similar reason as testimonials, but it takes things one step further by going into much more depth.
Content That Builds Trust
Sure, the business website is designed to show people what the company is all about. There will be important information on the website, such as the address and some biographical information about the company. In addition to that, the site should be educational and helpful to the target market. This is especially true with the content on the blog, which should include a lot of helpful information and do very little selling.
When customers and prospects see this content, they should feel as if they learned something valuable, which will endear them to the brand. Here are some tips that will help you create excellent content that builds trust:
Blog content should be helpful and informative and not sales oriented.
Content should be written to meet the needs of the audience.
Talk about your brand and tell your story in some of your content pieces so that your audience can get to know what you stand for.
It's true that a website adds value for a business. However, if it is created with that in mind, it has the potential of turning off your audience. It really needs to be written and designed with their needs in mind.
Categorized in: Digital Marketing
LIKE AND SHARE THIS ARTICLE:
READ OTHER DIGITAL MARKETING RELATED ARTICLES FROM THE BRICK MARKETING BLOG: