Digital Marketing Helps Build Your Brand
Written by Nick Stamoulis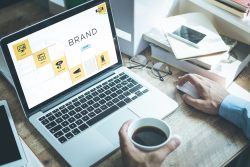 Over the years, branding has evolved and consumer's values have shifted. Today, the stakes are higher, and rules are changing. Brands are developing a value-based relationship with their clients, creating a lasting impression. By developing your brand, you get to control your clients' perceptions. If done correctly, branding will take your business to the next level.
Digital marketing is effective, but it is even more effective when tactics of branding are incorporated in because it helps boost credibly and sets your business apart from the competition. Here's more information:
Build Trust with Digital Marketing
Branding creates a connection between a business and its clients. By creating your own brand, you can easily interact with your customers and build trust. You get to engage with them through your style, creativity and strategy. Thus, trust is essential and central to building your brand.
Clients feel comfortable doing business with a trustworthy brand. They express their trust in you by buying your products and services. Once trust is established, client loyalty is inevitable. Ultimately, you build a strong and lasting relationships. This process is enhanced by the content you supply your audience and the digital marketing strategies that you use. They both work together.
Get Seen as an Expert
Not everyone knows what you do and how good you do it. A brand image entirely depends on the quality of service and products offered and not the identity of the individual. In most cases, a client chooses someone they've heard of. Lack of client recognition can lead to poor performance of your business. As a result, clients will not consider you an expert. Branding entails displaying what kind of goods and services you offer. However, the quality of your work sets you apart from your competitors. A strongly established brand increases your value as a business owner. By branding your services, you get to be proficient in your field.
Become More Recognizable
A brand image is what represents your business. A good brand image increases your business recognition, and gives you an edge over your competitors. Clients are inclined to finding a brand they can easily remember. If your brand has its own unique attributes you get to grab people's attention hence, potential customers are more likely to hear what you offer and recognize it easily.
Most successful companies have established a memorable brand for themselves. An example is Apple, a brand that's known for attaining advanced levels in innovation. The Apple brand is famous in the electronics industry and will always be easy to recognize. Your brand will gain recognition if what you offer is unique, and above the market standards. Create a memorable brand for customers to recognize who you are and what you offer.
Branding is vital for both small and big companies. It improves the overall impact of your company. Digital marketing can help enhance your branding and it also helps put your customers at ease. Take the time to brand your company right, and then use the right digital marketing strategies that enhance your brand.
Categorized in: Digital Marketing
LIKE AND SHARE THIS ARTICLE:
READ OTHER DIGITAL MARKETING RELATED ARTICLES FROM THE BRICK MARKETING BLOG: