Create Brand Trust with Your Content
Written by Nick Stamoulis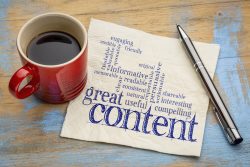 Your brand relies on customers to succeed, which means that your brand must be trustworthy. Some brands try to artificially create this trust through their advertising campaigns or other marketing methods. While these may work to some extent, this isn't necessarily the best approach.
Customers and potential customers respond extremely well to content, and that can form the basis behind your trust-building campaign. Here's more information about how to do this:
Audiences Have Different Needs
People won't want to read your content if they don't care about it. The problem is, your audience members will have different needs. This all depends on a variety of factors, such as the types of information they are looking for, what stage they are in the buying cycle, and more. If you don't create the content in a way that attracts your audience, they simply won't read it and it won't help your business.
This requires you to think about your audience and figure out what about your business will attract their attention. If you don't know how to consider your audience for your content, then you should ask yourself these questions.
What do my customers care about in regards to my industry?
Which topics draw the most attention from my audience?
Is there any keywords that my audience cares about?
You can't force people to read your content, so you need to write it in a way that makes it enticing to your potential customers.
Address Those Needs With Your Content
The content you write can go a long way to help customers with whatever they may need. For example, if a potential customer is wondering if the product is the right fit for them, the content can give you answers. If a customer wants to know how to use your product, your content can help with that, too.
You can take this approach as you keep your customers in mind when you create content. Think about what problems they might be facing and how you can help them solve it. You also may need to consider your sales funnel when creating content, as people in different stages of the funnel may have different content requirements.
Focus on what they would want or need from your business and then offer that information to them. This will encourage them to read your content, which will also help them to develop a better relationship with your business.
Content Needs to Be Genuine
People go on the Internet because they want to find information. That's why so many people don't like content that misleads them or doesn't serve their needs. Due to this, you should keep your content straightforward so people won't associate your brand with negative content, and thus will think highly of what you have to offer.
If you want to gain the trust of your customers through your brand, then you have to show customers that you care about them. You can do this by creating straightforward content that gives them the information that they want. If you focus on click-bait content, then people will think that your brand only cares about views instead of offering good content.
Remember that you need to create brand trust with your customers through your content, so you should focus on their needs. This is the best way to build brand trust!
Categorized in: Content Marketing
LIKE AND SHARE THIS ARTICLE:
READ OTHER DIGITAL MARKETING RELATED ARTICLES FROM THE BRICK MARKETING BLOG: