Believe In Your Digital Marketing Success
Written by Nick Stamoulis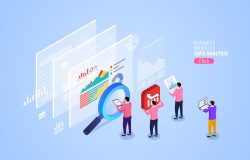 So, you have a great digital marketing plan in place. You work the plan on a consistent basis and have done so for the past few months. Your hard work is starting to pay off because there are signs of life in terms of results. Your traffic is increasing, your leads have gone up, and you notice an increase of activity in the search engines.
This is a crucial time. It is so easy to get frustrated, especially if you have been working the program for a few months. Maybe the results aren't what you expected and you think you should be further along. Perhaps you are under pressure from management to produce results because of their "bottom line". None of his matters. Your results are on their own timeline.
Results Are Unpredictable
This is probably one of the most frustrating things to grasp. Results are unpredictable, and that is why it is nearly impossible for a reputable agency to predict when you will see results. If you do find an agency that promises results by a certain time, chances are pretty good they aren't ethical in some way. Either they are lying about their results, or they are using underhanded tactics to force the results unnaturally.
When it comes to your digital marketing plan, slow is definitely better. It may be frustrating, but this is the only way to have lasting results that grow over time, as long as you continue working the program and don't stop. Forcing the results prematurely will likely result in poor long term performance.
Make Sure Expectations Are Aligned
Are you expectations aligned with what your marketing department or agency is actually telling you? Just because you hope results will occur at a certain time doesn't make this possible. Does your agency continually tell you that results can't be predicted? Do you keep pushing them to make a prediction as to when your program should start performing?
Really listen to their answers and what they are saying. If you have expectations of a certain outcome, it doesn't mean this aligns with what they were telling you. The solution would be to try to release your expectations as much as possible, and really listen to them when they warn you about how long it will take.
Believe the Results Will Come
Despite these points, know that your results will come. Have belief in the end game, and the fact that everything will work out. While this doesn't sound rooted in facts, it is actually rooted in experience. Every client we have ever worked with, every website we have ever worked on, we have observed the same trend. Not only will the results come eventually, but they will continue to improve over time, especially when doing things properly.
We understand that it is frustrating to feel like you don't know how things will turn out. After all, it is an investment to commit to a comprehensive digital marketing program. However, it helps if you trust the reputation of the agency you have enlisted for help and know that they have your best interests at heart.
Categorized in: Digital Marketing
LIKE AND SHARE THIS ARTICLE:
READ OTHER DIGITAL MARKETING RELATED ARTICLES FROM THE BRICK MARKETING BLOG: