The Buyer's Journey Should Impact B2B Keyword Research
Written by Nick Stamoulis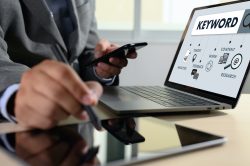 It stands to reason that you want to target the right keywords when formulating your SEO plan. Getting to know what your ideal customer looks like will go a long way to help you find the best keywords. In order to really find the best keywords, you should take some time to also understand the buyer's journey. Here's more information:
What Is The Buyer's Journey?
The Buyer's Journey is comprised of four overall stages that a prospect goes through when deciding to make a purchase. Getting to know this journey can help B2B companies make more sales. Attracting people of all stages of the journey takes an organized marketing effort that begins with keyword research. Here's a look at the different stages:
Awareness. Your prospect understands they have a problem.
Interest. Your prospect realizes they need to gather information about the best way to solve that problem.
Consideration. Your prospect starts analyzing the various solutions available.
Conversion. Your prospect makes a buying decision.
Define the Buyer's Persona
The Buyer's Persona is a profile you create that maps out what your best prospect looks like. It's a strategy for getting in touch with the needs and wants of your customers so you can most effectively position your product or solution as their solution. Consider age, gender, occupation, income, location, marital status and education when building your buyer persona. Keep in mind that your business may have more than one persona.
Discovering Buyer's Journey Keywords
Many people do keyword research with only search volume in mind. This isn't effective when conducting research that leads to creating converting content. Your goal is to uncover topics your buyer persona is most interested in learning about. Search volume should be considered. However, you should pay attention mostly to what stage of the buyer journey your searcher is in. Look for keywords that indicate whether your buyer is looking for general information or is actually about to make a buying decision.
You can tell that your prospect is searching for general information about how to solve their problem. Your job is to create content that teaches and informs at this stage. The goal is for you to understand each phase so that when you are searching through lists of keywords, you can find the ones that match each stage. Each stage should be represented in your keyword list.
Creating Content for Each Phase of the Journey
It isn't really the keywords that will attract customers to your site. Once you find the keywords, that is only part of the battle. You have an opportunity to show up in the search results for each stage that prospects go through. Create "how-to" content to attract top-of-the-funnel prospects and educate them. Focus on posts about brand names and attract prospects already comparing you against your competition. Write review posts that show them exactly how to make a purchase with you.
Buyer's journey keyword research isn't only about search volume. If you create a content strategy that strategically takes into account where your prospects are in their research journey, then you will attract your best customers.
Categorized in: SEO
LIKE AND SHARE THIS ARTICLE:
READ OTHER DIGITAL MARKETING RELATED ARTICLES FROM THE BRICK MARKETING BLOG: