SEO Can't Stand Alone – Diversify Your Digital Marketing
Written by Nick Stamoulis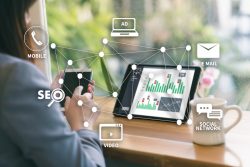 When it comes to digital marketing, it is so important not to rely on any one strategy. Many believe that it is okay to pick a strategy, like SEO, and then completely rely on it while ignoring the rest. The truth is, all the methods for marketing digitally work in tandem with each other, and it is not a good idea to put all your eggs in one basket anyhow.
While SEO is a valuable piece of the puzzle, success in this area is something that is earned over time. Other strategies, such as pay per click advertising and social media advertising, have a much more immediate affect. It is a good idea not to rely on these, either.
Here's more information about why it is important to diversify your digital marketing:
Diversification Keeps You In Front of Your Audience
What is your target audience? Chances are pretty good that they inhabit multiple places online. They're performing queries in the search engines. They're spending time on social media interacting with others and gathering information. They are actively spending time on websites that they enjoy in order to gather information. They may also be shopping online!
Since your audience is spread over a wider area, you should be wherever they are. If they perform a query in the search engine, you should make every effort to be in the top results. It is also a good idea for you to also be present on the page as part of PPC. Not only should you make your presence known in social media, but you can give this presence a bit of a boost through advertising. Encouraging them to sign up for a newsletter helps them keep in touch with your brand. When the time comes for them to make a buying decision, you will be at the top of their minds.
What Happens If One Marketing Option Is Taken Away?
The saying, "Don't put all your eggs in one basket" applies here. When it comes to digital marketing, diversification allows you to not rely on any one option to generate traffic and increase your business. What happens if you need to cut your budget and decide to cut your PPC? What if this was one of your only sources of traffic? What happens if something happens to your search engine rankings?
You really need to diversify in order to mitigate the negative impact if one marketing source gets taken away. The goal is for each business to come up with the ideal marketing mix that goes along with their brand. There's no specific program that can be adapted from one business to the other. The core of this thinking is to determine the best mix for your audience. You'll want to find the places where they inhabit online. Each facet of digital marketing should be examined to see if it makes sense for your audience.
When it comes to digital marketing, some believe it is okay to only focus on one, such as SEO, and not work on the others. It's important to diversify so that you can take advantage of all the resources as best as possible.
Categorized in: Digital Marketing, SEO
LIKE AND SHARE THIS ARTICLE:
READ OTHER DIGITAL MARKETING RELATED ARTICLES FROM THE BRICK MARKETING BLOG: