Avoid Turnover in Your Marketing Department
Written by Nick Stamoulis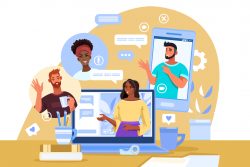 When it comes to digital marketing, it is important to be consistent. This usually means that once you come up with a strategy, you need to give yourself enough time to execute it properly, and then after that, you need to give it enough time to actually work. It could take at least a year to get your digital marketing to where your want it.
Inconsistency is the biggest barrier you will have to seeing results from your digital marketing sooner than later. Being consistent is often easier said than done, but the good news is that you are 100% in control of how consistent you are.
It is important to nip any potential causes of inconsistency when you can. Many don't realize it, but turnover in marketing is a huge hindrance. Some turnover can't be avoided, but some of it can.
Develop a Plan You Have Confidence In
One of the biggest problems you may encounter when working on your digital marketing is that every member of your team needs to "buy in" to the strategy you have developed. In order for a digital marketing strategy to work, you need to give it enough time. If you don't let it run long enough, you will set your marketing back considerably.
What happens when members of your team don't understand just how well your digital marketing strategy will work? Well, you might be tempted to make changes to the program prematurely, which would result in it taking even longer for you to see the results that you desire. If you develop a plan that is backed by data and your team has confidence in, you won't lose time or momentum making unnecessary changes.
Avoid Constantly Hiring New Digital Marketing Firms
If you outsource your digital marketing to an agency, don't fall into the trap of constantly hiring new ones. There are several reasons why you might want to hire a new company, such as wanting to change things up, to give another firm your business instead (such as, if you have a friend that works at an agency), or if you aren't happy with your digital marketing performance.
You do yourself a disservice if you don't give the agency enough time to execute the strategy they believe will work. A program needs at least a year because it takes several months of preparation to really fall into a routine, and then it takes several months beyond that to start seeing results. Make sure that you choose the right agency to begin with before you hire them. That way, you will trust that they will get results for you and you won't be tempted to make a change prematurely.
Develop Continuity Within Your Own Team
If one member of your in-house marketing team leaves the company's his doesn't mean your marketing will have to suffer. Make sure that your internal marketing department has checks and balances. It doesn't matter who executes the digital marketing strategy, as long as you continue the momentum, your an educate any new hires on how to do things so that you don't waste valuable time transitioning form one employee to the next.
By reducing turnover within your marketing team, this means that you are better equipped for long term success with your digital marketing.
Categorized in: Digital Marketing
LIKE AND SHARE THIS ARTICLE:
READ OTHER DIGITAL MARKETING RELATED ARTICLES FROM THE BRICK MARKETING BLOG: