The Top Reasons to Maintain an Active Business Blog
Written by Nick Stamoulis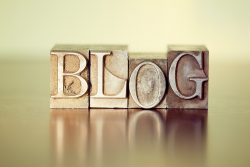 One of the most important components of SEO is content. After all, it's what the search engines crawl in order to determine what a site is all about and how/where it should rank. Any decent website is going to have the basic content in place: what services are offered, what products are sold, who's behind the company, and where it's located.
This is all important priority content, but for SEO purposes it's really necessary to publish informational content on an ongoing basis and the best place for this content is a blog. We get it, keeping a blog active is time consuming. But it's really something that should be done. Here are the top reasons to maintain an active business blog:
To target additional keywords
Yes, search engines are smarter now and determine where a site should rank based on the overall context of a page, not just keywords or keyword density. However, keyword placement is still important, because it contributes to that overall context! Priority keywords will obviously be targeted on the main product/service pages of the website, but in most cases/in most industries, there are plenty of longer tail keywords that are worth targeting elsewhere on the site. They might not have huge traffic numbers, but that also means that competition is generally less, and it's a great way to drive additional highly relevant traffic to the site.
To generate natural inbound links
Along with having great content, authoritative inbound links are also a top ranking factor. And how do you think a site is able to earn these authoritative inbound links? You guessed it – by having great, informational content that is worth linking to and sharing. These links will not only improve the search engine trust factor and ranking capabilities, they'll also help to drive traffic from a relevant audience that can become a customer or client if they see what they like.
To keep the site "fresh"
As a website's content ages, it can become stale, outdated, and even irrelevant which is why the search engines like sites that make an effort to keep their content "fresh." When a new piece of content/blog post is uploaded to a site, it gives the search engines a reason to come back and crawl and rank the website.
To maintain social media profiles
Too many companies have social media profiles that are completely bare or only include minimal information. Regular social media posts keep followers engaged and keep a brand top of mind. Blog posts make great social shares.
Clearly there are many reasons to maintain an active business blog. However, it's important to keep the quality of blog posts in mind. Quality always trumps quantity and it's better to spend some extra time on one great post than to publish multiple low-quality posts that won't do much to improve content marketing and SEO efforts.
Categorized in: Content Marketing
LIKE AND SHARE THIS ARTICLE:
READ OTHER DIGITAL MARKETING RELATED ARTICLES FROM THE BRICK MARKETING BLOG: