The Blog is One of the Most Important Pages on a Website
Written by Nick Stamoulis
What are the most important pages on your website? Sure, the homepage is a given. But what else? If you think it's your primary service and/or product pages, think again. According to a recent blog post from Hubspot: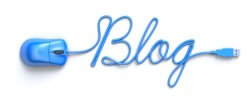 Every website is different, but generally speaking, here are the four most important (and most-visited) pages on a website:
1. Home Page
2. About Page
3. Blog
4. Contact Us Page
This list is placing the blog in the Top 3. While some may argue that this is too high up on the list, I don't. I agree that the company blog deserves to be in the Top 3 (and why every company needs to have a business blog on their website!).
The company blog is where you:
Gain trust
No matter what industry or niche you are in or what you are selling, you have competition. Today's consumers are smart. They're going to do their research before they buy. And where will they be doing this research? You guessed it. Online! When deciding which company to go with, they'll spend time browsing the websites. Product and service pages are great and are going to give them plenty of information, but they're looking for more. If you have high quality blog posts that position your company as a knowledgeable resource, it could be the deciding factor and what gets you that sale.
Showcase your talent
By "talent" I mean your writers- your employees! When people are in the research phase, it's nice to put a face to the name or to the company. The blog is where you have the chance to show off your personality. Blog posts are mostly informal, so visitors will get to know your company by getting to know your writers and their writing style.
Earn inbound links
The only links that have true SEO value today are the links that are earned naturally, meaning that other site owners choose to link over to your site because something you offer on your site is awesome enough to link to. It's rare to earn natural links to your product and service pages. The pages that are most likely to be linked to naturally are informational pages, including blog posts.
Generate organic traffic
The key to a successful blog strategy is incorporating evergreen content. This content is just as valuable months down the road as it is today. It provides information that people are searching for. The more useful content you have on your blog, the more likely it is that the blog will be an important driver of organic traffic over the long term.
Enhance a social media strategy
Business social media pages shouldn't be static entities (even though many businesses would have you believe that!). The whole point is to be social, which includes the sharing of useful content. As long as you are actively publishing links to your blog posts in social media and responding to comments, it keeps your page active and your brand top of mind.
Categorized in: Content Marketing
LIKE AND SHARE THIS ARTICLE:
READ OTHER DIGITAL MARKETING RELATED ARTICLES FROM THE BRICK MARKETING BLOG: