Optimize Your Website for Content But Don't Abuse Keywords
Written by Nick Stamoulis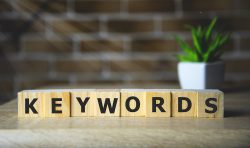 There is an art to optimizing your website with the proper keywords and there is a fine line between being effective and doing more harm than good. On the one hand, you need to make sure that the right keywords show up on the page so that the search engines can find your website. On the other, if you optimize too aggressively and put too many keyword on each page, this could do more harm than good. It is important to optimize your website, but you can't go overboard or else you want achieve the success that you really want. In other words, you don't want to abuse these keywords. Here's more information
Researching Keywords the Right Way
When we first begin an SEO program, we start by researching keywords. We take into account a variety of factors for these keywords and combine doing keywords research with making smart decisions to find the best keywords for a particular page. in other words, finding the right keywords is about much more than just making lists – there has to be some thinking involved.
Once we find the right keywords, it is time to make the absolute best decisions as to which keywords will be selected for each page. The keyword needs to be a natural fit to the content. Each keyword has a certain intent that lies behind it. If the keyword misses the marks, the search engines will take notice and may not return your website in the search results. Not only is it important to find the best keywords for a page, but from that list, you should narrow it down to two or three different keywords that represent the best fit for the page. Less is certainly more.
Keywords Need to Be a Natural Fit on Each Page
In other words, each keyword you select needs to naturally fit within the content of each of the pages on your website. if the keyword can't be worked into the content without it being noticeable, there are two things that can be done. First, you can rewrite the content in a way that better accommodates the keyword. The second strategy is that you can easily select another keyword that still conveys the meaning of the page without having to go through any rewrites.
The problem with stuffing a page with keywords is that these days, search engines like Google frown on this activity. In fact, this is something that could be a red flag to Google. After detecting that your content is stuffed with keywords, your website may not be returned in search query results or worse, you may even have been issued a penalty. Referred to as irrelevant keywords, Google wants you to stick with working in keywords in the most natural way possible. Besides, content that is stuffed with keywords doesn't read very well. It turns users off and makes them want to find another website where the content is written better.
When it comes to working with keywords, remember that less is more. You want to find the best keywords possible for a page, and then you want to make sure it is worked into the content as naturally as possible.
Categorized in: SEO
LIKE AND SHARE THIS ARTICLE:
READ OTHER DIGITAL MARKETING RELATED ARTICLES FROM THE BRICK MARKETING BLOG: