SEO Can Help Your Business Reach
Written by Nick Stamoulis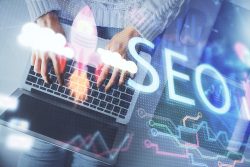 SEO is a vital part of your digital marketing strategy. Every aspect of digital marketing, such as content marketing, social media, online advertising, and SEO, work together with the ultimate objective to help you achieve your goals and improve your business reach as a whole. Businesses need to make sure they are approaching SEO the right way, though, in order to make this happen. So, what do you need to do to use SEO to improve your business reach? Here's more information:
Assess Your Website Usability
A search engine evaluates the usability of a website by looking at the website's HTML code. Make sure that your site uses semantic and valid HTML. This helps search engines evaluate your content more accurately. It can also help you get ranked higher in search results for keywords related to your content. Use a descriptive title and meta descriptions for your top pages because search engines use them in search results.
You should also ensure that your URLs are easy to read and understand. This will help search engines determine which pages are related to one another. It helps you control how your website appears in search results. Otherwise, they could grab unrelated snippets. Granted, the search may choose to not display them, but at least they're in place in case the words are used.
Take Care of On-Page SEO Elements
On-page optimization is vital to improving the ranking of your website in the search results. As I mentioned earlier, search engines use meta descriptions and titles to determine the relevance of websites. Do not use keyword stuffing for your content.
The more keywords you use in text, the higher your chance of having a duplicate page on Google. Use good SEO practices, including keyword research for your content and focusing on high-quality content. You should also ensure that your website can handle multiple users from different locations and countries.
Establish Yourself as an Authority
Search engine optimization is a good way to establish yourself as an authority, and improving your business reach is part of this. It is also a great way to improve your business, including get more traffic, leads, and sales. If you want to be labeled as an authority, though, you need to approach your SEO the right way. In other words, you need to make sure that all the elements of SEO are in place. These include:
Create useful content so that you can have more opportunities to be returned in search results.
Make sure that your SEO strategy is a whole is poised to establish you as an authority.
Consider branded elements when putting together your SEO plan so that you can dominate branded search.
As you know, SEO is a form of search engine optimization that can help your business grow and succeed. The more relevant content you provide, the better your chance of getting a good ranking. You should use SEO to help your site get more traffic and make the most of it by providing valuable and unique content.
Categorized in: SEO
LIKE AND SHARE THIS ARTICLE:
READ OTHER DIGITAL MARKETING RELATED ARTICLES FROM THE BRICK MARKETING BLOG: