Importance of Website Taxonomy for SEO
Written by Nick Stamoulis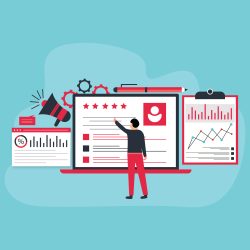 There is a lot that goes along with digital marketing, and some of the strategies that can help are less tangible than others. Of course, a good website sits at the center of a good digital marketing program, but there is more to it than simply sharing content with your audience. Your content needs to be findable, or else it won't do you any good.
Websites need an organized and deliberate classification system, referred to as a taxonomy. Every website needs a to be organized, however, not everyone really pays attention to this. Good taxonomy will enable your visitor to better navigate your website's pages, helping them find the information they need. However, it is even deeper than that. Effective website structure is also helpful for SEO. Here's a look as to why this is the case:
Why Your Website Should be Organized
There are a few reasons why you should organize your website using a structure, and in keeping your content organized, your site could perform better in the search engines. Not only that, but you will please your audience if they can find what they need. It helps encourage better communication between you and your audience.
Not only that, but your website taxonomy can definitely improve the search process. It gives website visitors a chance to find what they need without necessarily relying on search phrases. In making things easier to navigate, it actually increases the likelihood that your website will be returned in search results when people use the search engines to find information.
SEO and Website Taxonomy Are Related
It's true that SEO and the taxonomy of your website are related. If your website is easy to navigate, it helps with SEO because it can increase the chances that your website will be returned in the search engines. Not only that, but SEO can help you choose the best way to organize your website, because if your website is well organized, it pleases your audience.
When your audience members are happy, then they are more likely to navigate through its pages and eventually act by filling out a form, making a purchase, signing up for the newsletter, and more. If your information is easy to find on the website, then you can much more easily achieve your goals and objectives.
Another reason why taxonomy can help with SEO is that it can enhance the crawl flow without causing technical SEO difficulties by making it simpler for robots to crawl your site. Help the indexing process by classifying your material according to relevant keywords using taxonomies.
In other words, when your site is appropriately structured for search, visitors and search engine bots may quickly access all relevant material from a single website subfolder.
Many advantages of taxonomy are relatively simple to take advantage of. If you take the proper steps, nothing can prevent you from exploiting them. A well-structured taxonomy can influence how users interact favorably with your website, and it can also help your website perform better in the search engines.
Categorized in: SEO
LIKE AND SHARE THIS ARTICLE:
READ OTHER DIGITAL MARKETING RELATED ARTICLES FROM THE BRICK MARKETING BLOG: