Use Data to Fine Tune Your Digital Marketing
Written by Nick Stamoulis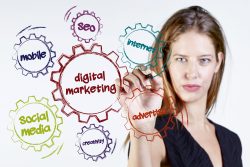 In our many years of experience in digital marketing, we know what works and what doesn't. When we start a new digital marketing program for our clients, we use our experience to create a plan for you that will get the job done. We use similar elements from program to program because we know that it works. Regularly posting content, social media, on site optimization, and other tactics are used strategically to help you achieve your business goals.
However, we always look at this initial program that we have come up with as a starting point. As time goes on, we use data to fine tune the program to help enhance your results.
Look for Signs that Content is Being Well Received
One of the the main components of any digital marketing plan is to regularly post content. However, simply posting the content isn't enough. You need to make sure that it is being well received by your audience. You should see early signs that your audience is reading and engaging with your content. Data such as time on site, impressions versus clicks on your content from the search engines, and other data points will help you see if your content is being read.
If your audience isn't reading your content, you will need to shift your strategy. You have a choice – you can give the program a little more time before you make any chances (sometimes this is the best approach, it all depends on the data), or you can brainstorm new topics that will connect better with your audience. If the content is well received, continue doing what you are doing, but continue to watch the data in case anything chances.
Assess Search Engine Presence
Although it could take time to see start seeing your organic traffic rise considerably, you will start to see early signs that your content is being indexed and is being given impressions. After a few months, you should start to see an increase in keywords that are given impressions. This is an early sign that your website is off to a great start when it comes to your digital marketing, especially for the SEO piece of the program.
For example, let's say it took about two months to get the static content optimized on your website. These days, optimization is a tricky and intricate work. You need to make sure that relevant keywords are represented on the page naturally.
However, the main concern is that your content perfectly expresses the point of the page itself. If, after a few months, you aren't seeing an uptick in keywords that are showing up in your data, this could be a sign that you will need to reevaluate the content. Think about whether or not the content is being well received by your audience, and make plans to fix it if you suspect that it isn't.
When it comes to your digital marketing, you need to make sure that you are seeing early signs that the program is working. If not, you can make some adjustments that will get things on track.
Categorized in: Digital Marketing
LIKE AND SHARE THIS ARTICLE:
READ OTHER DIGITAL MARKETING RELATED ARTICLES FROM THE BRICK MARKETING BLOG: